TEA releases final accountability ratings before A-F

Teach the Vote
TEA | Commissioner | SBOE Testing | Accountability
Date Posted: 11/15/2017 | Author: Mark Wiggins
The Texas Education Agency (TEA) released the final 2017 academic accountability ratings this week for school districts and campuses. This represents the last time in which districts and campuses will be graded under the "met standard/improvement required" system, which is scheduled to be replaced by the new "A through F" accountability system.
More than 1,200 districts and charters and more than 8,600 campuses were graded. In total, 95.4 percent met standard or met alternative standard, and just 3.5 percent were labeled "improvement required" and subject to potential interventions. A final 1.1 percent of districts and charters were listed as "not rated."
Just 26 of 1,023 school districts, or 2.5 percent, were labeled "improvement required." A total of 16 out of 180 charters, or 8.9 percent, were labeled "improvement required." According to the 2017 numbers, charters were more than three times as likely as districts to fail to meet academic standards.
The new "A through F" accountability rating system is scheduled to go into effect in 2018. Under House Bill (HB) 22, schools will receive grades of A, B, C, D, or F in each of three academic domains, as well as an overall letter grade. Districts and charters will receive their first "A through F" grades beginning with the 2017-18 school year, while campuses will still be graded on the "met standard/improvement required" scale. Individual campuses will begin receiving "A through F" letter grades in the 2018-19 school year.
The agency is still in the process of making rules for the "A through F" system, and ATPE continues to represent educators' perspectives in discussions with rulemakers regarding the system's implementation. The full 2017 accountability report for districts, charters and campuses can be found on the TEA website.
12/02/2022
It's December! As ATPE gears up to fight for public education in the Texas legislative session starting next month, we're also pushing Congress to pass an important bill before its session ends.
Retirement | TRS | Social Security, Congress | Federal
12/02/2022
ATPE and retiree groups are urging Congressional leaders to complete negotiations by the end of 2022 on a deal to fix the Windfall Elimination Provision.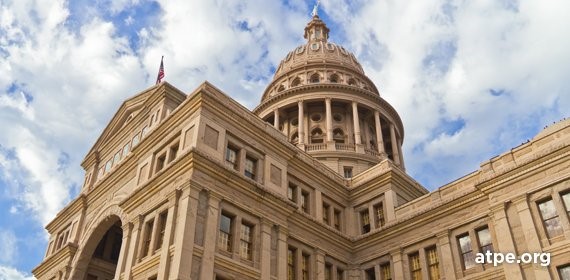 School Finance, Educator Preparation | Certification, Texas Legislature, Curriculum | Instruction, Privatization | Vouchers
12/01/2022
The Texas Commission on Virtual Education met Wednesday to discuss a draft of the commission's findings and recommendations for the 2023 legislative session.