Busy House tackles TRS, vouchers & merit pay

Teach the Vote
Retirement | TRS | Social Security Texas Legislature Privatization | Vouchers
Date Posted: 8/02/2017 | Author: Mark Wiggins
The Texas House of Representatives approved a pair of bills designed to aid retired teachers who have experienced sticker shock under new TRS-Care rates that resulted from the legislature's underfunding of the health care program for retired public school employees. Inadequate funding formulas created a $1 billion shortfall for TRS-Care heading into the next biennium, which House lawmakers fought to close by contributing roughly $500 million to the program. Their efforts prevented TRS-Care from completely collapsing, but rate hikes were required to make up for the remaining deficit.
House Bill (HB) 20 by state Rep. Trent Ashby (R-Lufkin) would make a one-time $212 million appropriation from the $11 billion economic stabilization fund (ESF) to lower premiums, deductibles and out-of-pocket costs for retired teachers. HB 80 by state Rep. Drew Darby (R-San Angelo) would provide for a cost-of-living adjustment (COLA) once TRS-Care is designated actuarially sound.
The House passed HB 20 by a vote of 130-10, with state Reps. Briscoe Cain (R-Deer Park), Matt Krause (R-Fort Worth), Mike Lang (R-Granbury), Jim Murphy (R-Houston), Matt Schaefer (R-Tyler), Matt Shaheen (R-Plano), Jonathan Stickland (R-Bedford), Valoree Swanson (R-Spring) and Bill Zedler (R-Arlington) voting no. HB 80 was approved by a vote of 139-2, with state Reps. Yvonne Davis (D-Dallas) and Carol Alvarado (D-Houston) voting no.
"Based on the feedback we've heard back home, the House cast an overwhelming vote Tuesday to help retired teachers who are facing very steep increases in their monthly expenses," House Speaker Joe Straus (R-San Antonio) wrote after Tuesday's vote.
"Helping retired teachers is one of the most significant and important things that we can do in this special session, and I'm proud that the House came together today to support these educators," said Straus. "This vote was a smart and appropriate use of about 2 percent of the $11 billion that is projected to be in the state's Rainy Day Fund in the next budget cycle. It will keep the Rainy Day Fund balance at a historically high level while helping Texans who have committed their lives to the education of our children."
In committee news, House Public Education Committee Chairman Dan Huberty (R-Houston) recommitted school finance HB 21 to the committee Monday afternoon. The committee then met briefly Monday evening to approve a committee substitute to HB 21 that removed the charter school funding added to the version filed at the beginning of the special session. The committee reconvened Tuesday to hear the following bills: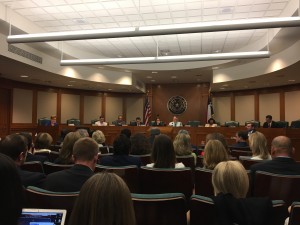 House Public Education Committee meeting August 1, 2017.
HB 54 by state Rep. Shawn Thierry (D-Houston) would require school districts to reimburse classroom teachers at or below the sixth grade level up to $600 per school year for the cost of classroom supplies. Reimbursement would be paid through state and federal funds identified by the commissioner of education. ATPE supports this bill.
HB 60 by state Rep. Gina Hinojosa (D-Austin) would exempt school buses from paying tolls. Similar legislation passed the Senate on the local and consent calendar during the regular session.
HB 130 by state Rep. Jeff Leach (R-Plano) would require school districts to annually report the expenses related to administering the STAAR test. ATPE supports this bill.
HB 132 by state Rep. Ron Reynolds (D-Missouri City) affects Fort Bend ISD, and would change the board of trustees from the current at-large system of representation to a hybrid system to include single-member districts.
HB 145 by state Rep. Jessica Farrar (D-Houston) would allow school districts to employ a social worker to provide "services specialized to assist students and families and designed to alleviate barriers to learning, connect the home, the community, and the school, advocate for the best interest and academic success of students, strengthen relationships, and assist with basic and psychosocial needs." ATPE supports this bill.
HB 149 by state Rep. Cindy Burkett (R-Sunnyvale) would allow school districts to proportionally reduce the days of service required of an educator employed under a ten-month contract if the district anticipates providing less than 180 days of instruction, according to its academic calendar. This change would not affect an educator's salary. ATPE supports this bill.
HB 157 by state Rep. Barbara Gervin-Hawkins (D-San Antonio) would expand eligibility requirements for admission to an educator preparation program to include a high school equivalency certificate and full-time wage-earning experience obtained while serving in the United States armed services. ATPE submitted testimony against HB 157, pointing out research that has correlated poor preparation with lower retention and higher attrition rates for classroom teachers. This makes selected the best qualified candidates all the more important. Furthermore, expedited preparation programs are untested in Texas, and standards should not be further degraded until more is known about program effectiveness.
HB 191 by state Rep. Phil King (R-Weatherford) would create a commission to recommend improvements to the public school finance system. The 13-member commission would include four members appointed by the governor, four appointed by the lieutenant governor, four appointed by the speaker of the House and would be chaired by a member of the State Board of Education (SBOE). Members would include legislators from each chamber, members of the business and civic communities, and a public school administrator or elected school board trustee. ATPE submitted neutral testimony on HB 191, pointing out that legislators have previously studied school finance as part of their interim charges. With school finance reform added to the expanded special session call, lawmakers should focus efforts toward substantive changes. Furthermore, any commission that studies school finance should incorporate educator input.
HB 198 by state Rep. Travis Clardy (R-Nacogdoches) would order school districts to increase teacher pay and would create a system of teacher performance designations carrying additional pay for teachers who demonstrate high levels of student growth. HB 198 would order districts to raise the average teacher salary by $1,000 every other year, beginning with the 2021-2022 school year. Districts in which the average teacher pay is less than $51,000 per year would also be required to raise the average teacher salary by $1,000 for the 2019-2020 school year. School districts that received less state and local maintenance and operation (M&O) funding under the Foundation School Program (FSP) or the same or less state and local funding per weighted average daily attendance (WADA) than the previous year would be exempt.
The bill would create a three-tiered program to designate accomplished, distinguished and master teachers. The "accomplished" designation would require a national board certification issued by the National Board for Professional Teaching Standards, for which districts would be eligible to receive a $1,900 advance from the FSP in order to cover the cost. To become "distinguished," an accomplished teacher would need to show student growth in the top 25 percent of teachers in a similar certification field over the most recent three years. A master teacher must perform in the top five percent. Eligibility requirements and performance metrics would be established by the commissioner of education through negotiated rulemaking with educators and experts in the field of education. Applicants would be evaluated by a peer review panel consisting of a majority of master teachers.
Districts would receive an additional $4,000 in state funding for each accomplished, distinguished and master teacher employed. Alternately, rural and majority economically disadvantaged schools would be eligible to receive $8,000 for each distinguished teacher and $20,000 for each master teacher. Schools that receive alternate funding would be required to raise the average annual pay of teachers who receive additional funding to $68,000 within three years and $85,000 within five years.
ATPE lobbyist Monty Exter testified neutrally on HB 198, pointing out that the devil is in the details of any merit pay system. While the bill has some promising components, there are concerns regarding the viability of funding and how to go about designing a system that works well in both small, rural schools and large, urban schools. It is also important to ensure that such a program does not become heavily reliant upon standardized test scores. ATPE applauds efforts to develop meaningful legislation, and encourages lawmakers to continue this conversation through the interim in pursuit of a plan that will achieve the critical grassroots buy-in necessary to be adopted statewide.
HB 200 by state Rep. Mary González (D-El Paso) would create an 18-member commission to recommend improvements to the public school finance system which would include the chairmen of each chamber's committee overseeing public education. Appointed positions would be required to include a parent, an administrator, a classroom teacher, and specialists in special education, bilingual education and career and technology education (CTE). The committee would be required to broadcast meetings live via the Internet. ATPE supports this bill.
HB 204 by state Rep. Dan Huberty (R-Houston) would require electrocardiograms for students participating in University Interscholastic League (UIL) sports.
HB 224 by state Rep. Morgan Meyer (R-Dallas) would entitle districts purchasing attendance credits to retain M&O tax revenue sufficient so that funding would not drop below the average M&O costs for the preceding three school years.
HB 231 by state Rep. Tomas Uresti (D-San Antonio) would add teacher turnover information to the information required in the performance report of a public school district. ATPE supports this bill.
HB 232 by state Rep. Helen Giddings (D-DeSoto) would include prekindergarten in the 22-student class size limit currently in effect for kindergarten through grade four. ATPE supports this bill.
HB 253 by state Rep. Ron Simmons (R-Carrollton) is the Senate's voucher bill, and is identical to the filed version of Senate Bill (SB) 2. The bill includes a $10,000 voucher for special education students, continued ASATR funding for certain schools that say the funding is necessary, $60 million in facilities funding for fast growth school districts, $60 million for facilities funding for charter schools, and a limited grant program for public school special education students to access up to $500.
Parents of disabled children have raised numerous concerns, and ATPE lobbyist Monty Exter testified against HB 253. The voucher in HB 253 would not cover the full cost of private special education tuition in most cases, which can average around $30,000, and which some public school districts required to fully cover under existing federal laws. Admission to private institutions would not be guaranteed, transportation is not guaranteed, and participating students would be required to waive their federal rights and protections under the Individuals with Disabilities Education Act (IDEA).
HB 263 by state Rep. Nicole Collier (D-Fort Worth) would require charter schools to adjust their admissions policies to prioritize students who reside within the school's attendance zone.
HB 264 by Rep. Hinojosa would prohibit charter schools from maintaining admissions policies that discriminate on the basis of discipline history. ATPE supports this bill.
HB 272 by state Rep. Linda Koop (R-Dallas) would create a state financing program administered by the Texas Public Finance Authority (TPFA) to assist school districts with certain expenses. The program would have the authority to issue up to $100 million in bonds or other obligations, which would be guaranteed by the Permanent School Fund.
HB 290 by state Rep. Drew Springer (R-Muenster) would modify the sparsity adjustment to increase funding for small school districts operating programs with fewer than 130 students.
HB 306 by Rep. González would order an annual increase in the basic allotment by the greater of the national inflation rate or one percent of the allotment for the preceding school year. ATPE supports this bill.
HB 320 by state Rep. Gary VanDeaver (R-New Boston) would create an education enhancement program for certain students with disabilities. The program would cover costs for transportation, private tutoring, educational therapies and related services for students with dyslexia, autism, speech disabilities, and learning disabilities. Program participants would continue to be public school students and would retain IDEA rights. The program would be funded at $10 million per year from the state's general revenue fund. ATPE lobbyist Monty Exter testified in support of HB 320, while also pointing out room for improvement. Exter suggested agency oversight can and should play a role in ensuring children receive the correct services and is in a position to review disputes between parents and local school districts.
HB 324 by state Rep. Harold Dutton (D-Houston) would require any district with a student enrollment that includes more than 1,000 African-American males to use only the academic achievement differentials among African-American males for accountability purposes under the first domain of the "A through F" school accountability system.
HB 325 by Rep. Dutton would include a student residing in the boundaries of a school district who is attending an open-enrollment charter school in calculating the district's WADA.
School Finance, Educator Preparation | Certification, Retirement | TRS | Social Security, Texas Legislature, Curriculum | Instruction, Privatization | Vouchers, School Safety, Educator Compensation | Benefits
03/24/2023
ATPE testifies against vouchers at marathon Senate Education Committee hearing, plus House committees hear bills on student restraint, curriculum issues, pre-k certification, and more.
03/23/2023
The Texas Senate Education Committee heard overwhelming opposition to school vouchers in a marathon hearing Wednesday, March 23.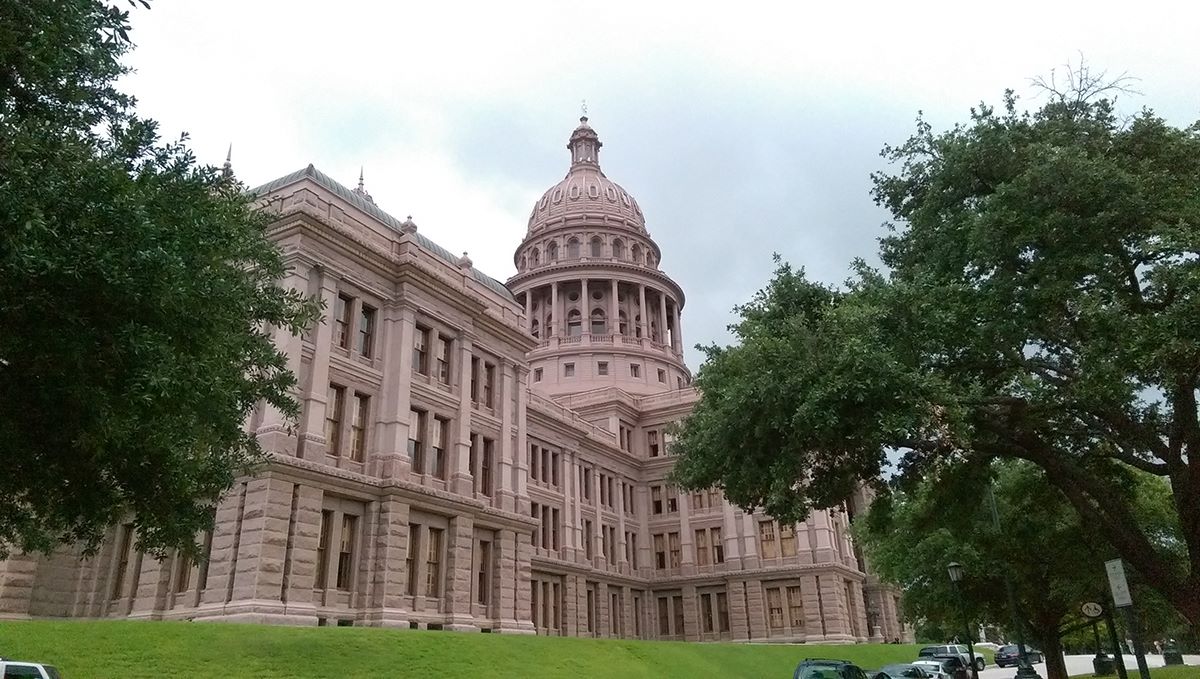 Educator Preparation | Certification, Texas Legislature, Curriculum | Instruction, Privatization | Vouchers, School Safety, Testing | Accountability
03/23/2023
The pace at the Capitol noticeably increased this week, including in the House Public Education Committee where ATPE testified on several bills.