Teach the Vote's Week in Review: March 27, 2020

Teach the Vote
Congress | Federal COVID-19
Date Posted: 3/27/2020
Educators worked tirelessly this week to prepare distance learning materials for students, collaborate in virtual meetings with colleagues, and even pass out meals. As you press on into "pandemic-mode" learning, check out the latest education news from the ATPE Governmental Relations team.
---
Gov. Abbott gives a COVID-19 update, March 26, 2020.
CORONAVIRUS UPDATE: Last week, Texas Gov. Greg Abbott cancelled this year's STAAR assessments and issued an executive order to close Texas schools through April 3, 2020, hoping to slow the spread of the COVID-19 virus. Parents and districts await further guidance from the state as to whether school closures will be extended beyond this date. Both Abbott and Texas Education Commissioner Mike Morath have indicated there is a possibility of extended school closure (as some other states have done), but they are waiting to see how the situation unfolds.
Guidance for school districts regarding closure decisions beyond April 3, plus information to assist in the continuation of instruction can be found on the Texas Education Agency (TEA) coronavirus resource page. TEA's frequently-updated resource page also includes guidance and FAQs on numerous issues such as special education, staffing, grading, and assessment. The agency added to its site this week updated guidelines on SPED and special populations, assessments, Individual Graduation Committees, funding, instructional continuity, sample notifications of infected students or staff, educator evaluations, contract nonrenewals, reading academies, and more. You'll also find on the TEA resources page a link to the new "meal finder" tool that helps parents find the locations of meals as provided by school districts. In related news, Texas has also secured flexibility this week from the federal government to enable parents to pick up meals without their children being present in the vehicle.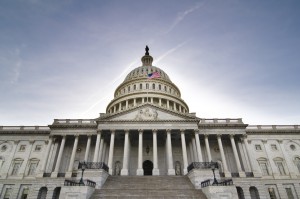 On the federal front, President Donald Trump last week signed the Families First Coronavirus Response Act (FFCRA), which included school meal service flexibility and paid family/sick leave. This week, a third coronavirus relief bill has been passed by the U.S. House and Senate and signed by the president late this afternoon. The Coronavirus Aid, Relief, and Economic Security Act or CARES Act contains $13.5 billion in funding for K-12 education, plus additional amounts for child nutrition, and child care; temporary deferment on payments and interest for federal student loans; and authorization for the U.S. Secretary of Education to waive numerous testing, accountability, and funding mandates. The $2 trillion bill was passed unanimously by the Senate on Wednesday, and the House approved it today by a rare voice vote.
The CARES Act will impact education in terms of finance and support, as well as in terms of workforce and labor as it provides benefits that could directly or indirectly benefit educators. This includes a one-time cash rebate payment of $1,200 to each individual earning below $75,000 per year and $500 per child for families that earn under $150,000 per year. Individuals earning up to $99,000 and families earning up to $198,000 will be eligible for smaller payments. This calculation will be based on your 2019 tax return, if you have already filed it; otherwise it will be based on your 2018 tax return. Individuals earning Social Security benefits and/or government pensions are also eligible. The Washington Post has created a calculator to estimate your rebate amount. Read more about the rebate checks, which federal officials have said they hope to distribute within three weeks, here. The CARES Act also provides approximately $260 billion for enhanced unemployment benefits.
While the CARES Act passed by Congress today addresses education-related waivers, states including Texas have already been applying for waivers of federal testing requirements, which we've reported previously on Teach the Vote. Education Secretary Betsy DeVos indicated last week that waivers of federal testing requirements will be granted following a "proper request" from states. DeVos is expected to appear this evening at a White House briefing on the coronavirus response. As always, ATPE's lobby team will be monitoring the press briefing and sharing pertinent updates via Twitter.
For the latest pandemic-related news and as a complement to TEA's resources, we encourage you to visit ATPE's Coronavirus FAQ and Resources page. The frequently updated resource offers expert answers and guidance for Texas educators during this unique time. Also, watch for updates from the ATPE lobbyists here on Teach the Vote and via our Twitter account as more regulatory developments occur.
Embed from Getty Images
---
ELECTION UPDATE: Election dates are being pushed later into the year amid fears that the coronavirus risks make voting unsafe. Last week, Gov. Abbott announced local governments, such as city councils and school districts, may postpone their May 2 local elections until November 3, 2020. Multiple school districts are taking advantage of this change, while others are choosing to stick with their May election date for now. These municipal elections are separate from the Texas primary runoff elections, which will now be held on July 14, 2020 instead of May 26, 2020.
Voting in the Texas presidential primaries seems like ages ago, but not everything has come to a stop. Some states are still conducting primaries, which means presidential candidates are still accruing delegates. Other states are delaying primaries into the summer. While campaign tactics may have changed, there are still many candidates at all levels of government who are hanging in the balance as we wait for the pandemic to be behind us.
For more news on campaigns and elections in Texas and the nation, visit yesterday's election roundup blog post by ATPE Lobbyist Mark Wiggins. As always, visit TexasEducatorsVote.com for election resources created especially for educators, and use our features here on Teach the Vote to learn more about the candidates.
---
Restrictions imposed in response to the coronavirus threat unsurprisingly are affecting the outreach efforts related to the 2020 U.S. Census. As of yesterday, the census response rate in Texas was 24%, compared to the national response rate of 28%.
Most responses in Texas have been completed online, which is good and bad. On one hand, the new modality of online completion is perfect for busy lives (and pandemics). On the other hand, Texas has WIDE swaths of areas with limited or no internet access (as indicated by all non-purple areas in the map above). Unfortunately, the novel coronavirus pandemic has pushed the U.S. Census Bureau to delay its timeline by two weeks, which means census workers will have to traverse the Texas heat to hand-deliver census packets in these areas. Texas historically has lower response rates than the rest of the nation because of our vast expanses of (beautiful) land and hard-to-count populations. Census counts determine many important streams of funding, such as for roads, emergency services, and public education.
For FAQs on the 2020 Census, check out this recent blog post by ATPE Lobbyist Andrea Chevalier.
---
SEL Competencies from casel.org
Today is International Social-Emotional Learning (SEL) Day. According to the Collaborative for Academic, Social, and Emotional Learning (CASEL), social and emotional learning is "the process through which children and adults understand and manage emotions, set and achieve positive goals, feel and show empathy for others, establish and maintain positive relationships, and make responsible decisions." Research shows that incorporating these core SEL competencies into schools can lead to significant increases in academic achievement, post-graduation outcomes, and improved behavior and attitude.
Visit selday.org for more information and resources and check out these resources from Inside SEL for parents, educators, and school communities on implementing SEL strategies during the COVID-19 pandemic. Check out this video from Edutopia for a quick overview of SEL and its benefits!
Texas Legislature, Congress | Federal, COVID-19, Curriculum | Instruction, TEA | Commissioner | SBOE, School Safety, Educator Compensation | Benefits, Testing | Accountability
08/26/2022
The ATPE Governmental Relations team recaps the past week's education news, legislative and election updates, and regulatory developments.
02/07/2023
Northside (20) ISD Superintendent Brian Woods, president of the Texas School Alliance, and Cypress-Fairbanks ISD Superintendent Mark Henry have a powerful op-ed in the Feb. 6 San Antonio Express-News.
School Finance, Texas Legislature, Curriculum | Instruction, TEA | Commissioner | SBOE, Privatization | Vouchers
02/03/2023
The SBOE squeezed a four-day meeting into two, and most legislative activity was canceled this week due to a winter storm. Read more from ATPE Governmental Relations.