Summary of July 24 SBEC meeting

Teach the Vote
Educator Preparation | Certification COVID-19
Date Posted: 7/24/2020 | Author: Andrea Chevalier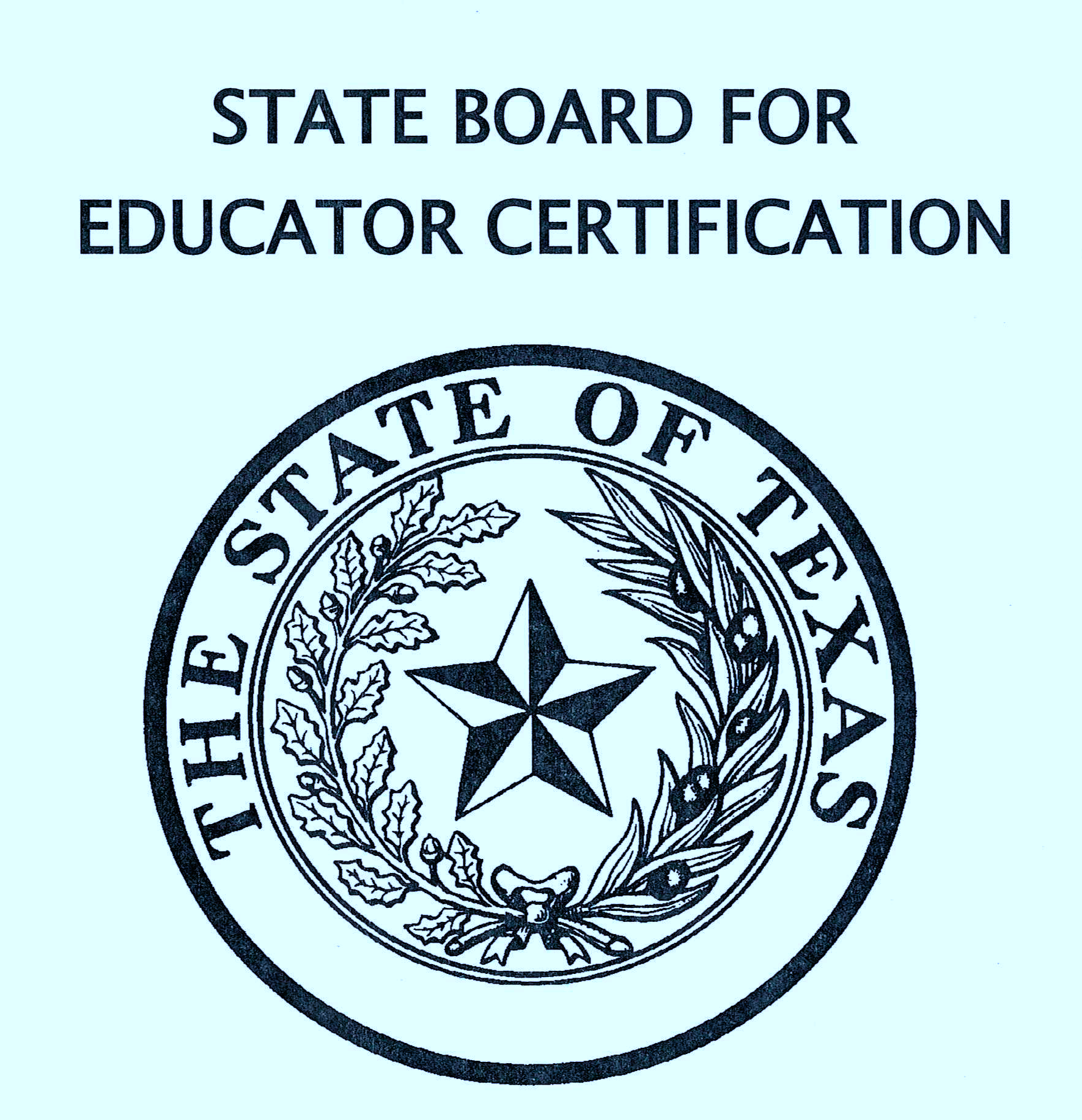 The State Board for Educator Certification (SBEC) met today, July 24, 2020, to take up a lengthy agenda, including the adoption of five items related to the implementation of the Science of Teaching Reading and a proposed fix for expiring Legacy Master Teacher certificates.
Highlights:
SBEC approved an ATPE-backed proposal to eliminate the expiration date of Legacy Master Teacher certificates, which were barred from being newly issued or renewed by last year's House Bill (HB) 3.
The board adopted rules to implement science of teaching reading requirements of HB 3, including new testing requirements and replacement certificates for PK-6.
Two new non-voting members joined the board: Emily Garcia, Executive Director of Urban Teachers in Dallas replaced Carlos Villagrana as the alternative certification program representative. Dr. Edward Hill is replaced by Dr. Alma Rodriguez, Dean of the College of Education at the University of Texas- Rio Grande Valley in Brownsville. Both new members were former public school teachers and administrators.
SBEC will meet again next Friday, July 31, to discuss special rules regarding COVID-19 and educator candidates and will likely hear from many educator preparation stakeholders who want flexibility for their programs amid an ever-changing landscape of pandemic policies and practices.
Chevalier testifies at SBEC meeting, July 24, 2020.
Legacy Master Teachers
ATPE Lobbyist Andrea Chevalier testified today in support of a proposal to create two new rules that would eliminate the expiration date on Legacy Master Teacher (LMT) certificates and make these certificates exempt from renewal requirements. The rules would apply to valid LMT certificates and LMT certificates that expired on or after September 1, 2019.
This transition to a lifetime certificate will solve the unintended consequences of House Bill (HB) 3, which barred the Master Teacher certificates from being issued or renewed after September 1, 2019. This change has left some teachers unable to continue in their current teaching assignments once their LMT certificate expires. ATPE pushed the board for several months to take action on this issue, even requesting a letter of legislative intent from House Public Education Committee chairman and HB 3 author Dan Huberty.
Read Chevalier's written testimony in support of the new rules here and see video of her oral testimony at 4:00:00 here. The board approved the proposal, which will be published in the Texas Register for public comment from August 21 to September 21, 2020. The proposal will then be up for final adoption at the October SBEC meeting and then subject to review by the State Board of Education. If all approval processes are finalized, the effective date of this proposal would be December 27, 2020, and the Texas Education Agency (TEA) has said it will do outreach over the winter break to make sure LMTs are aware of the change.
Coronavirus Update
Gov. Greg Abbott has provided flexibility through suspensions of statutes and rules that allowed Spring 2020 certification candidates to spend less time on face-to-face requirements, allowed candidates who weren't able to test but who had completed all preparation requirements to receive a one year probationary certificate, and allowed for those have yet to pass the content pedagogy test to obtain a one-year intern certificate (only issuable prior to October 1). Other changes have allowed extension of a one-year emergency permit for candidates who are unable to test, and the state suspended requirements that internships, practicums, and clinical teaching experiences must occur in actual school settings rather than virtual ones. Witnesses testifying today echoed public comment provided at the beginning of the SBEC meeting, expressing that school district plans are extremely varied in terms of start dates, instructional settings, learning plans, and visitor policies, which makes it difficult to place student teachers and help students meet their preparation requirements. Next Friday, July 31, the board will consider specific rulemaking related to further COVID-19 considerations for educator preparation.
Science of Teaching Reading
SBEC adopted several agenda items today that implement the new science of teaching reading (STR) requirements of HB 3. Every teacher candidate issued a standard certificate after January 1, 2021, must take a stand-alone STR certification exam if they plan to earn a certificate in Early Childhood (EC): PK-3, Core Subjects: EC-6, Core Subjects: 4-8, English Language Arts and Reading: Grades 4–8, English Language Arts and Reading/Social Studies: Grades 4–8. These certificates (except for EC: PK-3) will be replaced after December 31, 2020, with new certificates that incorporate science of teaching reading into their name, standards, and testing requirements. Replacement certification exams are also being developed so that content within the STR is not duplicatively tested. Additionally, through August 2021, the STR exam requirement implementation will be pass/fail while curriculum is refined and details are being worked out. Starting September 6, 2021, a scaled score for the STR will be implemented. See below for the operational dates of the new tests.
Today's adopted rules implement the STR change by updating the pre-admission content test requirements, adding an approval process for educator preparation programs (EPPs) to be able to offer the replacement certificates, adding the replacement certificates to the categories of classroom teaching certificates, updating exam requirements for the replacement certificates, and reorganizing the STR standards in rule to apply to all EC-6 educators.
TEA also provided an update to SBEC members on test development and its communication strategy with the field and candidates. An STR exam preparation manual is expected to be available September 2020. A TExES in Focus: Science of Teaching Reading (293) Webinar was held July 16, and it will be posted soon on the TEA website. TEA also plans to hold a deep-dive webinar series on the changes. EPPs must attest by December 15, 2020, to their ability and readiness to prepare candidates for the STR-impacted fields.
Other Adopted Rules
SBEC adopted several changes to rules regarding educator preparation requirements, including guidance to programs that are closing or consolidating; a requirement that EPPs that are closing publish in writing a formal exit or dismissal policy; additions to curriculum to align with the mental health, abuse, and suicide requirements of House Bill 18 (86th Texas legislature); alignment to board standards of the 150 clock hours of coursework and training prior to clinical teaching or internship; clarifications on certificate deactivations; guidance about summer practicums; guidance for programs and candidates who need to finish their practicum out-of-state and out-of-country; and guidance about test approval for completers from prior years who return to their program later on to test.
The board also adopted into rule new standards for bilingual Spanish, EC-6 and EC-12 special education, and deafblind certification areas and removed the one-year expiration date on passing PACT to give candidates more time to be admitted to a program if they have a passing score on a PACT exam that is more than a year old.
Proposed Changes
The board approved the proposed mandatory four-year rule review for 19 TAC Chapter 234, which relates to preparation, testing, certification, and renewal requirements for military service members, military spouses, and military veterans.
SBEC also discussed proposals for the Accountability System for Educator Preparation Programs (ASEP), including the "Not Rated: Declared State of Disaster" accreditation status for EPPs due to Abbott's disaster declaration. Additionally, data for 2019-20 will be reported only, and candidates who were issued a probationary certificate under Abbott's COVID-19 waivers will be excluded from ASEP pass rates for the 2020-21 school year. TEA also proposed an ASEP index, which combines the five ASEP indicators to create an overall "index" or score for EPPs. The five indicators are PPR/non-PPR pass rates, principal surveys, student growth, observation frequency and quality, and new teacher surveys. Each of these indicators will be weighted to create the index, with the PPR/non-PPR pass rates having the greatest weight. For the 2020-21 year, EPPs' status will be the more favorable outcome of the index versus the current system. The proposed rule also contains an updated to say that if an EPP is under a board order, they aren't eligible for a commendation.
A model for the student growth indicator of the ASEP system was also proposed today, which will assign points to beginning teachers of record in their first three years based on their students' growth on standardized testing. These points will be attributed to the beginning teachers' EPPs and incorporated into those programs' ASEP scores. Earliest is Spring 2024 before this indicator could become implemented, due to uncertainties regarding testing during the pandemic.
The board also approved proposed updates to the SBEC rule chapter that designates which certificates are appropriate for certain teaching assignments (19 TAC Chapter 231). This includes changing "Master Teacher" to "Legacy Master Teacher" and updates to incorporate assignments for new SBOE-approved courses, such as English Language Development Acquisition, African American studies, and energy cluster courses (Oil and Gas Production).
Discussion Only Items
The first year of the EdTPA pilot program included 27 EPPs — 16 institutions of higher education (IHE) and 11 alternative certification programs (ACP). Over 450 candidates have submitted portfolios. The second year of the pilot will include 35 EPPs (19 IHEs, and 16 ACPs). SBEC members discussed the fact that the state of Georgia has eliminated its EdTPA requirements, while two other state legislatures have discussed eliminating EdTPA from their state frameworks. Researchers from Sam Houston State University will provide an update on their T-TESS pilot, which aims to explore an alternative to EdTPA, at the October SBEC meeting.
The board is set to meet again next Friday, July 31. Subsequent meetings this year are set for October 9 and December 11, 2020.
Texas Legislature, Congress | Federal, COVID-19, Curriculum | Instruction, TEA | Commissioner | SBOE, School Safety, Educator Compensation | Benefits, Testing | Accountability
08/26/2022
The ATPE Governmental Relations team recaps the past week's education news, legislative and election updates, and regulatory developments.
02/07/2023
Northside (20) ISD Superintendent Brian Woods, president of the Texas School Alliance, and Cypress-Fairbanks ISD Superintendent Mark Henry have a powerful op-ed in the Feb. 6 San Antonio Express-News.
School Finance, Texas Legislature, Curriculum | Instruction, TEA | Commissioner | SBOE, Privatization | Vouchers
02/03/2023
The SBOE squeezed a four-day meeting into two, and most legislative activity was canceled this week due to a winter storm. Read more from ATPE Governmental Relations.