SBEC meets to discuss COVID-19 considerations for certification candidates

Teach the Vote
Educator Preparation | Certification COVID-19
Date Posted: 6/11/2020 | Author: Andrea Chevalier
The State Board for Educator Certification (SBEC) met off their normal schedule today to discuss a new coronavirus-inspired rule regarding face-to-face requirements for certification candidates in educator preparation programs. View the agenda from today's SBEC meeting here.
Candidates in educator preparation programs complete experiences such as internships, clinical teaching, practicums, and field-based experiences that involve face-to-face interactions with teachers, students, and observers. These experiences are crucial for candidates to practice pedagogical skills and get real exposure to what school environments are like, including the many unexpected aspects of daily life as an educator. The COVID-19 pandemic made these in-person experiences unsafe and impractical, which prompted the issuance of waivers from the governor's office this spring.
Current waivers for educator candidate experiences during the pandemic only impact candidates who are completing experiences in 2019-20 and for candidates who are beginning such experiences in 2020-21. The waivers will stay in effect only as long as Gov. Greg Abbott's disaster declaration is in place. For this reason, SBEC board members met today to consider a new rule today that would effectively allow for virtual practices with regard to certification candidate experiences. This unique provision would be limited to the 2020-21 academic year and would expire with no additional action by the board.
The rule discussed by the board today specifically states that "for the 2020-2021 academic year, actual school settings and authentic school settings may include campuses with a traditional, in-person setting that are temporarily functioning in a virtual setting and face-to-face settings for observations may include synchronous virtual settings." With this change, internships, clinical teaching experiences, field-based experiences, teacher observations, and practicums could take place in a virtual setting during the upcoming academic year. Referring to synchronous virtual settings, the rule allows for observations to take place in which the candidate and observer are both in a virtual classroom setting at the same time, rather than the observer being able to watch a video of the educator after the fact (asynchronous).
Two representatives from the University of Texas at Austin, Dr. Jill Marshall and Dr. Michael Marder, testified today about how the changes would impact their educator preparation programs. Dr. Marshall expressed support for the proposal, but she also voiced concerns with synchronous observations and related issues such as school district permissions, student privacy, and inequitable candidate access to technology. Dr. Marder echoed Dr. Marshall's concerns, expressing that both asynchronous and synchronous video would better serve students and suggesting alternative rule language for the board to consider. Staff of the Texas Education Agency (TEA) indicated that the inclusion of the word "synchronous" was meant to mirror the current face-to-face requirements of teacher observation, and the board did not make any changes to the proposed rule text.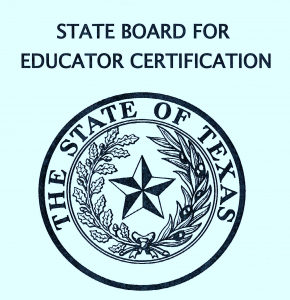 SBEC voted to approve the proposed rule amendment today, which will now be posted in the Texas Register and available for public comment from June 26 to July 27, 2020. On July 31, the board will meet again to review the rule and, if finally approved, the rule will take effect Oct. 15, 2020.
During today's virtual meeting, the board also introduced its two new members recently appointed by Gov. Abbott, Julia Dvorak (formerly Julia Moore) and Jean Streepey. As we previously reported here on Teach the Vote, Streepey is a middle school math teacher in Highland Park ISD (Dallas). Dvorak of Pflugerville is a consultant who works for a lobby and public relations firm that has represented organizations and candidates advocating for private school vouchers.
The next regularly scheduled SBEC meeting is set for July 24, 2020. For more information on the coronavirus pandemic, be sure to check out ATPE's Coronavirus FAQ and Resources page.
Texas Legislature, Congress | Federal, COVID-19, Curriculum | Instruction, TEA | Commissioner | SBOE, School Safety, Educator Compensation | Benefits, Testing | Accountability
08/26/2022
The ATPE Governmental Relations team recaps the past week's education news, legislative and election updates, and regulatory developments.
02/07/2023
Northside (20) ISD Superintendent Brian Woods, president of the Texas School Alliance, and Cypress-Fairbanks ISD Superintendent Mark Henry have a powerful op-ed in the Feb. 6 San Antonio Express-News.
School Finance, Texas Legislature, Curriculum | Instruction, TEA | Commissioner | SBOE, Privatization | Vouchers
02/03/2023
The SBOE squeezed a four-day meeting into two, and most legislative activity was canceled this week due to a winter storm. Read more from ATPE Governmental Relations.