Results of key Texas races in the November 2022 election

Teach the Vote
Texas Legislature Elections TEA | Commissioner | SBOE
Date Posted: 11/09/2022 | Author: Jennifer Mitchell and Mark Wiggins
Voters across the country headed to the polls Tuesday, Nov. 8, 2022. It was the culmination of the first election cycle following redistricting in 2021, the once-per-decade redrawing of political maps after each U.S. Census. Here in Texas, all statewide offices were on the ballot this year, along with all Texas State Senate, State House, and State Board of Education (SBOE) seats. However, gerrymandering to protect the majority party in each district meant there were fewer competitive races on the November 2022 ballot. As ATPE has often reminded our members, many of Texas' races are determined through the party primaries held during the spring, as the primary winners often face little or no opposition in the general election.
Despite the stakes of this year's election, overall turnout was down significantly compared to the last midterm election in 2018. About 8.1 million voters cast ballots in this election compared to just shy of 8.4 million in 2018. Fewer than 42 percent of registered voters turned out to vote in 2022, a drop of more than 11 percent from the 53 percent who turned out in the 2018 midterm. According to Texas election tracker Jeff Blaylock, a record 9.6 million registered Texas voters did not vote in 2022. Combined with those who are eligible but have not yet registered, 11 million Texans who could have voted did not do so.
Of course, results are still preliminary, as it does take time to finalize the counts, including mail-in ballots, and very close races can generate a recount. In the meantime, here are some of the highlights of Tuesday's votes in Texas.
Statewide Races
Each one of Texas' current statewide officeholders – all of whom are Republicans – were reelected. Republican Dawn Buckingham, currently serving as a state senator, also won the open race for Land Commissioner, giving Republicans a full sweep of the statewide offices on the ballot. No Democratic candidate has been elected to statewide office in Texas since 1994.
In the Texas governor's race, Republican Gov.
Greg Abbott
defeated Democrat
Beto O'Rourke
by 11 points, 43.8 percent to 54.8 percent. Abbott received more than 234,000 fewer votes this year than in 2018, while O'Rourke received about 513,000 fewer than he received in his 2018 campaign against Republican U.S. Sen. Ted Cruz. O'Rourke earned about 3.5 million votes in 2022, which is roughly the same amount as 2018 Democratic gubernatorial nominee Lupe Valdez.
Lt. Gov.
Dan Patrick
(R) defeated repeat challenger
Mike Collier
(D) by a 10-point margin, 53.8 percent to 43.4 percent, after winning reelection by a narrow 5-point margin in 2018. Patrick received nearly 45,000 votes more than in his 2018 matchup again Collier, who received 386,000 fewer votes than in 2018.
Indicted and embattled Texas Attorney General
Ken Paxton
(R) was considered the most vulnerable statewide officeholder heading into the November election, but he survived a challenge by Democrat
Rochelle Garza
, also winning by a 10-point margin, 53.5 percent to 43.6 percent. Despite facing numerous investigations and allegations of corruption and criminal activity, Paxton received only 158,000 fewer votes than Abbott.
SBOE Races
All the SBOE seats were up for grabs this year. SBOE members serve four-year terms, which will eventually be staggered with half of the members serving an initial two-year term instead of four years. A lottery process will determine which seats will be on the ballot in 2024 and which members get to serve until 2026. In the meantime, here are the preliminary results of SBOE races on the November 2022 ballot:
 
Texas Senate Races

As with the SBOE, all Texas Senate seats were on the ballot this year following the redistricting process. A lottery process will ultimately decide which senators must run for reelection in 2024 and which ones can serve a full four-year term through 2026.


Few state Senate races were competitive this fall with many of their outcomes having been determined through the party primaries held earlier this year. The Republican majority in the Senate will increase from 18-13 to 19-12 with only one seat flipping. Incumbent Sen. Beverly Powell (D) opted not to run for reelection this year after her Senate District 10 was redrawn to favor the Republican party. Current State Rep. Phil King (R), who won the Republican primary for SD 10 earlier this year, ran unopposed in the general election and will become that district's next senator.

Reps. Mayes Middleton (R) and Tan Parker (R) are also headed to the upper chamber in Senate Districts 11 and 12, respectively. Middleton won the Republican primary election earlier this year to succeed the retiring Sen. Larry Taylor (R), former chair of the Senate Education Committee; he faced no opposition in the general election. Parker defeated Francine Ly (D) in the SD 12 general election and will succeed retiring Senate Finance Committee Chair Jane Nelson (R). These state representatives who earned a promotion will join another Senate newcomer, Kevin Sparks (R), who ran unopposed Tuesday after winning a crowded Republican primary to succeed retiring Sen. Kel Seliger (R) in the panhandle's SD 31.

In SD 24, incumbent Sen. Dawn Buckingham (R) ran for statewide office, leaving an opening for former Sen. Pete Flores (R) to return to the Senate. Flores ran for Senate unsuccessfully in 2016, won a special election to serve one partial term in Senate District 19 from 2018 to 2020, and was defeated in his 2020 reelection bid.
In Tuesday's results, Flores defeated Kathy Jones-Hospod (D) to win the SD 24 seat.

The single most competitive Senate race was in SD 27, left open with the retirement of longtime Sen. Eddie Lucio Jr (D). Candidate Morgan LaMantia (D) appears to have prevailed over Adam Hinojosa (R) Tuesday by a margin of only a few hundred votes.

All other Senate incumbents will be returning in 2023.
 
Key Texas House Races

Republicans in the Texas House realized a net gain of only one seat following the general election, giving them an 86-64 majority over the Democrats. Here is a look at noteworthy results:
District 9: Rep. Trent Ashby (R), currently representing HD 57, was redistricted into HD 9. The former representative for this district, Chris Paddie (R), resigned in March. Ashby easily defeated Jason Rogers (D) on Tuesday.
District 13: Angelia Orr (R) prevailed over Cedric Davis Sr (D) in this district where incumbent Rep. Ben Leman (R) did not seek reelection.
District 17: This race's winner is Stan Gerdes (R), who beat out Democratic candidate Madeline Eden and independent candidate Linda Curtis. The seat is currently held by Rep. John Cyrier (R), who did not seek reelection.
District 19: Ellen Troxclair (R) beat Pam Baggett (D) to win this seat that has been held by James White (R); White unsuccessfully ran for statewide office earlier this year.
District 22: In yet another open seat contest, Christian "Manuel" Hayes (D) defeated Jacorion Randle (R). Hayes has been chief of staff to the incumbent, Rep. Joe Deshotel (D), who opted not to run for reelection.
District 23: Former SBOE member Terri Leo-Wilson (R) will join the House after defeating Keith Henry (D) in this district that has been held by Rep. Mayes Middleton (R). Middleton advanced to the Senate in a primary election earlier this year.
District 50: Rep. James Talarico (D), who currently represents HD 52, was placed into HD 50 as a result of the redistricting process. He easily won his general election race against Victor Johnson (R) and Ted Brown (L). Talarico will succeed Rep. Celia Israel (D) who opted to run for mayor of Austin instead.
District 51: Lulu Flores (D) defeated Robert Reynolds (R) in this race to succeed Rep. Eddie Rodriguez (D) who did not run for reelection.
District 52: Caroline Harris (R) defeated Luis Echegaray (D) in this district that represents a pickup for Republicans in the House. Currently held by Rep. James Talarico (D), the district map was redrawn to favor Republicans, and Talarico was moved into HD 50.
District 57: In another open race, Richard Hayes (R) beat Darren Hamilton (L) to take the seat that has been held by Rep. Trent Ashby (R). Redistricting moved Ashby into HD 9.
District 61: In the seat currently held by Rep. Phil King (R), the winner was Frederick Frazier (R) who defeated Sheena King (D) to keep this district in Republican hands. King has advanced to the Texas Senate.
District 63: Current Rep. Tan Parker (R) is also moving up to the Senate, leaving an opening in HD 63 where Ben Bumgarner (R) defeated H. Denise Wooten (D).
District 65: This district was redrawn to favor Republicans this year, and repeat candidate Kronda Thimesch (R) took the win over Brittney Verdell (D). Rep. Michelle Beckley (D) has held the seat, but she ran unsuccessfully for lieutenant governor earlier this year.
District 70: Democrats have most likely flipped this seat from the Republican side after redistricting and a decision by current Rep. Scott Sanford (R) not to seek reelection. By a narrow margin, Mihaela Plesa (D) appears to have defeated Jamee Jolly (R).
District 73: Repeat candidate Carrie Isaac (R) prevailed over Justin Calhoun (D) in this open seat that has been held by Rep. Kyle Biedermann (R). Biedermann did not file for reelection. Isaac is the wife of former HD 73 Rep. Jason Isaac (R).
District 76: This district was redrawn, placing its current Rep. Claudia Ordaz Perez (D) into HD 79 instead. The resulting open seat in HD 76 appears to have been won by Suleman Lalani (D) over Dan Mathews (R).
District 85: Earlier this year, Rep. Phil Stephenson (R) lost his reelection bid in a Republican primary runoff. The winner of that race, Stan Kitzman (R), also defeated fellow candidates Larry Baggett (D) and Michael Miller (L) on Tuesday.
District 92: This district is a pickup for the Democrats with a victory by Salman Bhojani (D) over Joe Livingston (R). Rep. Jeff Cason (R) did not seek reelection, and the district was redrawn to favor Democratic candidates.
District 93: Nate Schatzline (R) won this open seat contest over KC Chowdhury (D), keeping Rep. Matt Krause (R)'s district in Republican hands. Krause ran unsuccessfully for another office in the 2022 primary.
District 100: Venton Jones (D) took the win over Joe Roberts (L) for this seat that has been held by Rep. Jasmine Crockett (D). Crockett is headed to Washington, D.C. after winning the election for U.S. House District 30.
District 114: Former Rep. John Bryant (D) is headed back to the House after defeating Mark Hajdu (R) on Tuesday. The seat opened up with a decision by current Rep. John Turner (D) not to seek reelection this year.
District 118: It was a repeat contest between John Lujan (R) and Frank Ramirez (D) that was won by Lujan. This seat flipped from Democrat to Republican control after Lujan won a special election for this district in November 2021. Lujan held the same seat briefly in the 2016 interim following a special election, but he lost his reelection bid in the 2016 general election and again in 2018. With the win Tuesday night, Lujan will finally get a chance to serve during a legislative session.
District 122: Mark Dorazio (R) defeated Angi Aramburu (D) and Stephanie Berlin (L) to win this open seat, keeping it in Republican hands. Current Rep. Lyle Larson (R) did not seek reelection.
District 124: Josey Garcia (D) took the victory over Johnny Arredondo (R) in another open seat. Incumbent Rep. Ina Minjarez (D) opted to run for a different office this year.
District 133: Mano DeAyala (R) prevailed over Mohamad Maarouf (D) and James Patrick Harren (L). The seat became open when current Rep. Jim Murphy (R) declined to seek reelection.
District 147: Jolanda Jones (D) won a special election in May to serve out the remainder of the term of former Rep. Garnet Coleman (D), who resigned from the HD 147 seat in February 2022. Jones similarly prevailed over Damien Thaddeus Jones (R) in Tuesday's general election, earning the right to serve a full term in the House.
All remaining House incumbents appear to have won their races, or they were unopposed in the November election.
ATPE will post any updates or changes to these results as new information becomes available. Our lobby team will have additional analysis of the election results coming soon on Teach the Vote and
The ATPE Podcast
. Meanwhile, for complete election results, visit the Texas Secretary of State's website at
https://results.texas-election.com/races
.
Texas Legislature, Elections, Curriculum | Instruction, Privatization | Vouchers, School Safety
05/05/2023
Don't forget to vote Saturday in the May 6 local election. Plus, the House will be tackling its first Saturday calendar, which means sine die is nigh.
06/02/2023
The HB 100 voucher scheme dies at the end of regular session, plus a special session and the TEA takeover of Houston ISD begin.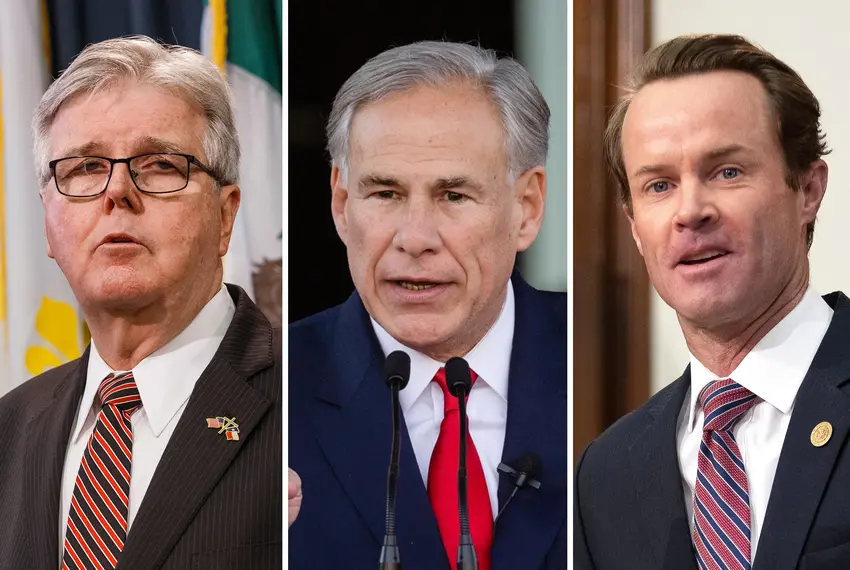 06/01/2023
Always happy to castigate the Texas House, Patrick breaks form to criticize the governor as misinformed and unsympathetic toward homeowners.