A status report on House Bill 3: Educator Employment, Certification, and Training

Teach the Vote
School Finance Educator Preparation | Certification Texas Legislature
Date Posted: 12/30/2020 | Author: Andrea Chevalier
It's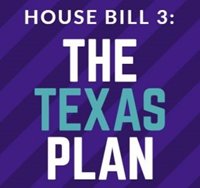 been a year and a half since the 2019 passage of House Bill (HB) 3 by Rep. Dan Huberty (R-Kingwood), plenty of time for its myriad changes to enter the implementation process and begin having an impact on our schools. Starting in January, Texas educator certification candidates will begin taking new Science of Teaching Reading (STR) exams, while those in the classroom may have already participated in the HB 3 Reading Academies. It's unclear how HB 3's many changes may fare during the upcoming 2021 legislative session, but as we approach the end of the year, ATPE is taking a look at how the bill has been implemented during the interim.
In this second post on the status of HB 3 implementation, we analyze elements of the bill affecting the education profession and how ATPE has continued to advocate for teachers on these issues.
---
Educator Employment, Certification, and Training
HB 3 established a publicly searchable Do Not Hire Registry for schools aimed at preventing the employment of individuals who may pose a danger to children. The listing includes non-certified and certified individuals who are ineligible for hire in Texas public schools, regional service centers, and shared service arrangements. The registry also lists non-certified persons who are currently under investigation. For more information, see ATPE's previous reporting on the Do Not Hire Registry after HB 3 passed, and access the public registry here.
With respect to educator certification, HB 3 created an unintended consequence that negatively affects Master Teacher certificate holders, now known as "Legacy Master Teachers" (LMTs). HB 3 eliminated options for new issuance or renewal of the Master Teacher certificate, leaving current LMTs at a loss (and potentially out of a job) when their certificates expired. The State Board for Educator Certification (SBEC) was tasked with writing rules to implement the changes required by HB 3. With the Legislature not set to meet again until 2021, ATPE spent much of the interim period working with policymakers to find a solution that would keep these highly trained teachers in their classrooms.
ATPE secured a letter of intent from Chairman Dan Huberty, the author of HB 3, that was delivered to SBEC members at their February 2020 meeting. Huberty explained that HB 3's changes to the Master Teacher statutes were meant to avoid confusion with the unrelated "master" teacher designation created by HB 3 as part of the TIA. ATPE also worked with other key stakeholders and provided testimony at the October 2019, December 2019, February 2020, May 2020, July 2020, and October 2020 SBEC meetings in support of a fix. ATPE also submitted public comments to SBEC in January 2020 and in August 2020 to support rule changes that would help LMTs maintain their teaching positions. In April 2020, ATPE sent a letter letter to Gov. Greg Abbott expressing our appreciation for his interest in the issue.
At the October 2020 SBEC meeting, an ATPE-backed rule that will transition LMTs into holders of a lifetime certificate was finally approved. In November, ATPE Lobbyist Mark Wiggins testified in support of the SBEC rule in its final steps of approval by the State Board of Education (SBOE). The SBOE took no action on the rule, allowing it to proceed towards its expected effective date of Dec. 27, 2020. LMTs, including those whose certificates have already expired, should expect outreach from TEA and should check their certificate at the end of the year for the change.
HB 3 also included several components that prioritize early literacy and reading achievement, focusing attention on the Science of Teaching Reading (STR), that will affect a number of current and future educators. The bill requires all Texas K-3 educators and principals, except special area teachers (Art, Music, PE), to complete Literacy Achievement Academies before the start of the 2022-23 school year. Much of the training associated with these reading academies is being completed online. We may see changes to the completion timeline of the reading academies forthcoming, should state leaders or the Legislature decide to postpone it because of the COVID-19 pandemic. See our previous reporting about HB 3's Reading Academies here.
While the reading academies are meant to ensure current teachers have STR training, many teacher certification candidates will also see changes reflected in their educator preparation program (EPP) and certification testing. Starting January 1, 2021, those seeking intern, probationary, and standard certificates to teach students in PK-6 must pass a Science of Teaching Reading exam in addition to their certification field exam (e.g., Core Subjects with Science of Teaching Reading: Early Childhood–Grade 6). TEA has recently modified some of its exams to reflect the HB 3 requirements, as well as changes to the Texas Essential Knowledge and Skills curriculum standards. The agency will implement a one-year transition in which both the old and new certification exams will be available, but candidates testing after Jan. 1, 2021, are encouraged to take the newer version.
Read more about the implementation of the STR aspects of HB 3 in this recent Teach the Vote blog post from ATPE Lobbyist Andrea Chevalier. Also, check out TEA's resources on the STR certification exam here.
---
Look for our final post in this three-part series on HB 3 implementation tomorrow, in which we'll review the bill's impact on special education funding.
Educator Preparation | Certification, Texas Legislature, Educator Rights, Curriculum | Instruction, TEA | Commissioner | SBOE, Deregulation | Charter Schools, School Safety
03/29/2023
The committee met Tuesday, March 28, 2023, and ATPE testified on several bills. Votes on pending bills were also taken.
School Finance, Texas Legislature, School Safety
03/28/2023
The House Select Committee on Youth Health and Safety heard several bills Monday, March 27, 2023, intended to address school shootings.
School Finance, Educator Preparation | Certification, Retirement | TRS | Social Security, Texas Legislature, Curriculum | Instruction, Privatization | Vouchers, School Safety, Educator Compensation | Benefits
03/24/2023
ATPE testifies against vouchers at marathon Senate Education Committee hearing, plus House committees hear bills on student restraint, curriculum, pre-k certification, and more.