SBOE Long-Range Plan committee holds first meeting

Teach the Vote
TEA | Commissioner | SBOE
Date Posted: 9/12/2017 | Author: Mark Wiggins
Members of the State Board of Education (SBOE) hosted the first steering committee meeting Tuesday for the development of a Long-Range Plan for Public Education.
Long-Range Plan Steering Committee meeting at the Texas Education Agency, Sept. 12, 2017.
The 18-member steering committee includes SBOE chair Donna Bahorich (R-Houston) and members Barbara Cargill (R-The Woodlands), Tom Maynard (R-Florence), Georgina Perez (D-El Paso), and Marty Rowley (R-Amarillo). Three staff members from the Texas Education Agency (TEA) are also on the committee, as well as 10 public stakeholders representing various community and education interests. Additional information on the Long-Range Plan and steering committee members can be found on the TEA website.
The steering committee's purpose is to recommend long-term goals for the state's public school system and to identify strengths, opportunities, and challenges. The purpose of the steering committee's first meeting was to adopt operating procedures, elect a chair, look at examples of long-range plans from other states, brainstorm a vision, get an image of the Texas demographic landscape in 2030, and prioritize three to four topics for deep dive sessions.
One of the committee's first actions was to elect Barbara Cargill as chair and Lanet Greenhaw, vice president of education and workforce at the Dallas Regional Chamber, as vice-chair. The committee then reviewed examples of plans produced in Delaware, Indiana, North Carolina, Tennessee, and Virginia.
Texas State Demographer Dr. Lloyd Potter presented the committee with an overview of state demographics and how those trends may impact the public education system. Below are some highlights of the presentation to the committee.
According to Dr. Potter, Texas is experiencing urbanization characterized by people moving from rural areas to urban and suburban areas. Significant growth is also occurring in the suburban "rings," a factor of migration out of urban cores as well as immigration from outside the state following employers to the suburbs. Dr. Potter pointed to Harris County as the most significant growing county in the nation, with roughly a dozen counties in the national top 100. Texas also is home to three of the top ten fastest growing counties in the United States. California is the top state contributing migrants to Texas, comprising 22.1 percent of the net migration from out of state.
In 2000, Hispanics comprised 32 percent of the state's total ethnic makeup. By 2015, Hispanics comprised 39 percent. During the same period, the percentage of non-Hispanic whites roughly held steady. Much of the non-Hispanic white population consists of Baby Boomers, who are now in their 60s and 70s. Older cohorts in the Boomer age range comprise a larger percentage of the overall population each year. Across all nationalities, cohorts of school-age children are increasing year-over-year.
Using data from 2010 to 2015, projected population growth has slowed compared to previous models. Dr. Potter hypothesized this could be a result of reduced immigration from Mexico and declining fertility rates. According to the newer calculations, Texas could reach a population of just under 29 million by 2020. While the number of people who primarily speak Spanish at home has increased slightly, the percentage of school-aged children from primarily Spanish-speaking households has decreased. The percentage of children from households below the federal poverty level has slightly decreased. Looking at the labor force, low-skilled, low wage jobs are declining as high-skilled, high wage jobs are increasing as a share of the overall workforce. This is accompanied by increases in educational attainment, with the number of college graduates increasing compared to a decrease in workers with a high school diploma or less.
Among the more troubling statistics shared by the demographer today, Texas is one of the worst states in terms of teen births. Texas is ranked number five out of 50 states, ahead of only Arkansas, Oklahoma, Mississippi, and New Mexico. Dr. Potter suggested there is a direct correlation between high teen birth rates and high levels of poverty. Additionally, adult obesity in Texas is on the rise.
Following the presentation by Dr. Potter, the committee moved on to prioritizing topics for deep dive discussions. Future-readiness, equity, poverty, teacher recruitment and retention, alternative certification, family and parent empowerment, parent education, early learning, numeracy and literacy, access, additional measures of accountability, and readiness to participate in the global economy were among the topics identified by members of the committee as important leverage points for improving public education.
The committee is next scheduled to meet November 6 at the American Institutes for Research (AIR) in Austin.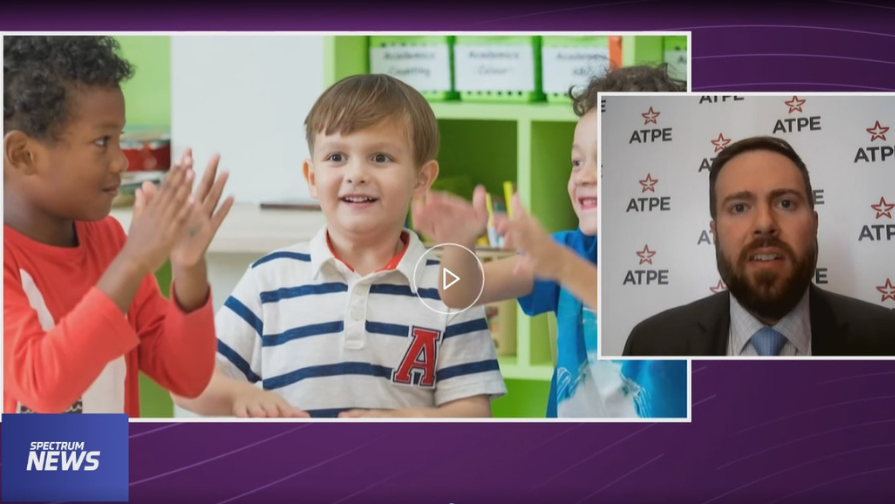 Texas Legislature, TEA | Commissioner | SBOE, Privatization | Vouchers, Deregulation | Charter Schools, Educator Compensation | Benefits
01/27/2023
Teacher pay and voucher bills are generating media attention, and Texas senators received their committee assignments this week.
Texas Legislature
01/23/2023
Texas Lt. Gov. Dan Patrick (R) announced Senate committee assignments Monday for the 2023 legislative session.
01/20/2023
Texas state leaders were inaugurated this week and previewed their priorities for the legislative session now underway. Read more from the ATPE lobby team.