Public Education Committee winds down House bills

Teach the Vote
Date Posted: 5/03/2017 | Author: Mark Wiggins
The House Public Education Committee met Tuesday morning for another long day of testimony. Monday, May 8, is the last day House committees are allowed to report House bills, which makes this the last week in which House committees may take testimony on House bills. After a break for the daily House session, the committee voted out the following bills Tuesday evening:
Chairman Dan Huberty (R-Houston) informed members the committee will likely meet Wednesday for a formal meeting to consider additional items of pending legislation.
House Public Education Committee meeting May 2, 2017
The hearing began with
HB 3813
 by state Rep. Mando Martinez (D-Weslaco), which would create a pilot program to enable at least 14 high schools in counties along the Gulf coast or the border to get fiber-optic connections. The program would be subject to funds appropriated specifically for the purpose. According to the
fiscal note
, HB 3813 would cost roughly $12.2 million through the biennium ending August 31, 2019.
HB 4087
by state Rep. Wayne Faircloth (R-Galveston) would provide a 25 percent discount to districts that purchase attendance credits under Section 41.093 in order to reduce the district's wealth per student to the equalized wealth level. Funds saved through this discount would be required to go toward a district's maintenance and operations (M&O) costs. According to the
fiscal note
, HB 4087 would cost $1.15 billion over the next biennium.
HB 2519
 by state Rep. Lynn Stucky (R-Denton) would order a study on dropout prevention and recovery for students who drop out before entering the ninth grade. ATPE supports this bill.
HB 1553
 by state Rep. J.M. Lozano (R-Kingsville) would allow a district that fails to meet standard to enter into a memorandum of understanding (MOU) with an institution of higher education in order to help improve the district's performance. ATPE supports this bill.
HB 3573
 by Vice-chair Diego Bernal (D-San Antonio) would remove the exemption from municipal zoning ordinances governing public schools for charters in small municipalities from charters adjacent to a large municipality. Contains a grandfather clause for those operating or planning as of September 1, 2017.
HB 3014
by state Rep. Nicole Collier (D-Fort Worth) would require open-enrollment charter schools to prioritize students that live within each school's attendance zone. Rep. Collier introduced a committee substitute that includes considerations for certain schools serving a specific population, such as disabled students. ATPE supports this bill.
HB 4151
 by state Rep. Terry Wilson (R-Marble Falls) would transfer responsibility for reporting bacterial meningitis information from TEA to the Department of State Health Services (DSHS).
SB 826
 by Senate Education Committee Chairman Larry Taylor (R-Friendswood) would loosen sequencing for advanced English and mathematics courses. Under the bill, such courses could be taken before or concurrently with English I, English II and English III, and Algebra I and Geometry, respectively. ATPE lobbyist Mark Wiggins testified neutrally on SB 826, suggesting the bill strays far afield of graduation requirements established by the 83
rd
Texas Legislature under HB 5. While allowing English III to be taken concurrently with advanced English courses would help address an issue making it more difficult for some late-term transfers from out of state to graduate, it is inappropriate to allow advanced English and math courses to be taken before foundation courses are completed.
HB 2537
by state Rep. Bobby Guerra (D-Mission) would require a school counselor to inform a parent or guardian of the availability of education and training vouchers and tuition and fee waivers to attend an institution of higher education for a student who is or was in the conservatorship of the Department of Family and Protective Services (DFPS).
HB 3767
by state Rep. Alma Allen (D-Houston) would require a local school board to annually certify with TEA that the local board has established the required district- and campus-level committees. ATPE supports this bill.
HB 4111
 by Rep. Allen would allow an open-enrollment charter school that has been rated lower than satisfactory solely due to a data error reported by the charter to PEIMS to have its rating corrected. Rep. Allen introduced a committee substitute that narrows the bill to one specific school.
HB 2010
 by state Rep. Greg Bonnen (R-Friendswood) would require the Texas Education Agency (TEA) to make information available regarding workplace safety training that may be included as part of a district's curriculum for grades 7 through 12.
HB 588
 by state Rep. Dwayne Bohac (R-Houston) would establish a grant program for promoting computer science certification and professional development for teachers. According to the
fiscal note
, HB 588 would cost approximately $105,000 per year. ATPE supports this bill.
HB 3231
 by Rep. Bohac would exempt charters operated by a public senior college or university from being assigned a financial accountability rating under Section 39.082(e). Rep. Bohac explained that public senior colleges and universities are already covered by their own financial accountability requirements, and requiring separate criteria for charters operated under their umbrella is duplicative.
HB 4170
 by state Rep. Scott Cosper (R-Killeen) would expand eligibility the virtual school network to include kindergarten courses. The
fiscal note
estimates HB 4170 would cost $4.9 million over the next biennium. ATPE submitted testimony against HB 4170, pointing out that the overwhelming evidence shows full-time virtual schools perform significantly worse than traditional classrooms. At the same time, research continues to show the importance of early education as the foundation upon which all subsequent learning is built. Subjecting a child to a substandard instructional environment during their most formative period could do lasting damage to their educational prospects.
HB 1847
 by state Rep. Garnet Coleman (D-Houston) would require a school to notify parents if there is not a full-time nurse on the campus. ATPE supports this bill.
HB 3853
 by Rep. Coleman would require Chapter 42 districts to assign a behavior health professional to each campus or at least provide access to one. According to the
fiscal note
, HB 3853 would cost the state roughly $104 million through the next biennium. ATPE supports this bill.
HB 3632
 by state Rep. Joe Moody (D-El Paso) would extend the timeframe for requesting a special education due process hearing for the child of a service member.
HB 2872
 by state Rep. DeWayne Burns (R-Cleburne) would allow a minor to be arrested if they commit a Class C misdemeanor if they are in a disciplinary alternative education program (DAEP). Would also allow an officer to issue a citation to a child in a DAEP.
HB 1485
 by state Rep. Valoree Swanson (R-Spring) would require the State Board of Education (SBOE) and school administrators to "endeavor to create an environment" that encourages critical questioning of scientific subjects. Testifying in favor of the bill, SBOE Member Tom Maynard (R-Florence) said some teachers fear it is against the law to discuss creationism. TEA staff testified that the bill would not permit anything that is not already permissible. Rep. Swanson suggested statewide "athiest leaders" opposed the bill.
HB 4140
 by Rep. Bohac would rename the instructional materials allotment (IMA) the "instructional materials and technology allotment" and require districts to consider "open education resources" before purchasing instructional materials. It would also order the creation of a peer-review process for districts to certify a district technology plan. According to the
fiscal note
, peer review could cost each district between $10,000 and $30,000 every five years.
06/02/2023
The HB 100 voucher scheme dies at the end of regular session, plus a special session and the TEA takeover of Houston ISD begin.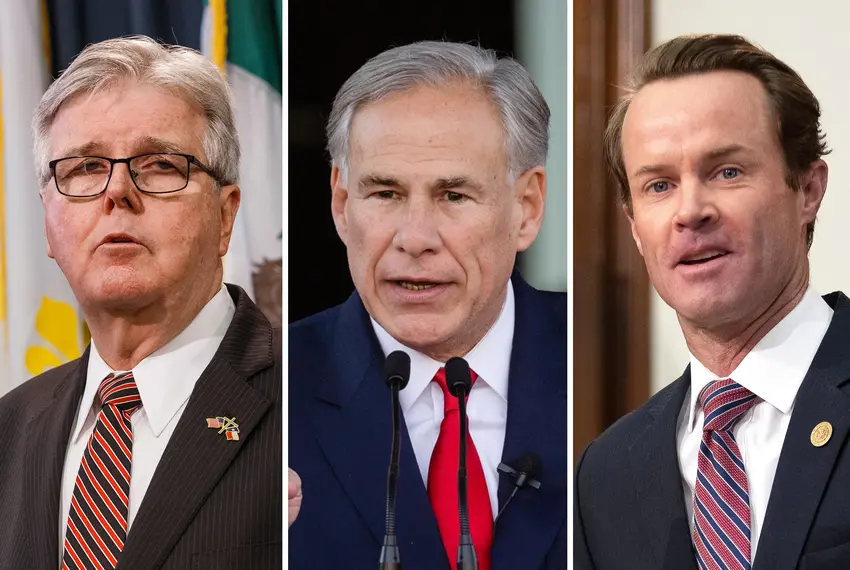 06/01/2023
Always happy to castigate the Texas House, Patrick breaks form to criticize the governor as misinformed and unsympathetic toward homeowners.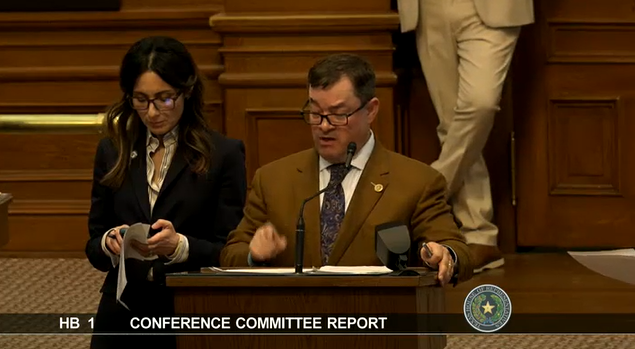 School Finance, Retirement | TRS | Social Security, Texas Legislature, Privatization | Vouchers, Educator Compensation | Benefits
05/30/2023
HB 100 was a casualty of a breakdown in communications between the House and Senate as the regular session drew to a close.