Latest education developments in the 85th legislature

Teach the Vote
Date Posted: 5/22/2017 | Author: Jennifer Mitchell, CAE
It was a busy weekend for the Texas House and Senate, which took action to move forward several pieces of high-profile education legislation during meetings on Saturday and Sunday that stretched into the overnight hours. The regular legislative session is slated to end in just one week on Memorial Day, May 29, 2017. Here's a look at some of the latest activity from ATPE's lobbyists:
Budget
The House was in session for most of the day Saturday. Late that afternoon, senators and representatives serving on the conference committee for Senate Bill (SB) 1, held a public hearing to openly discuss the terms of a
compromise for the state's budget bill
. The discussions lasted beyond midnight amid late calls from the governor for additional funding of governor's office initiatives for economic development. The SB 1 compromise includes adding $480 million for retired educators' healthcare (consisting of $350 million from the state and $130 million from school districts), which is contingent upon final passage of the TRS-Care bill. The conferees agreed on tapping the state's Rainy Day Fund for one-time expenditures to repair aging state hospital facilities and purchase bulletproof vests for law enforcement officers. They'll also use a payment deferral method to free up some needed cash. The budget compromise entails a $530 million increase for public education, but that's far less than the additional $1.6 billion that the House had proposed in its budget, contingent upon passage of Huberty's school finance reform bill, House Bill (HB) 21. The final funding available for public schools will depend largely on what becomes of HB 21 now that the Senate has made dramatic changes to that bill, most notably by harnessing a private school voucher plan to it. Sen. Jane Nelson (R-Flower Mound) told senators this afternoon that while the conference committee has adopted its report, there are still some housekeeping items to be worked out before the report is presented to the full House and Senate. She directed senators to the
Legislative Budget Board's website
to view documents related to the report on the budget compromise.
Bathrooms
The House was back in session on Sunday, and one of the most watched moments was the debate on a school safety bill that became the vehicle for an amendment relating to gender-based bathroom policies for schools.
SB 2078
by Sen. Larry Taylor (R-Friendswood) and sponsored in the House by Rep. Dennis Bonnen (R-Angleton) was a noncontroversial bill intended to help school districts address their multi-hazard operations plans. But Rep. Chris Paddie (R-Marshall) successfully added a floor amendment to address bathroom usage in schools. As adopted by the House on a 91-50 vote last night, the Paddie amendment requires schools to provide a single-occupancy restroom or changing facility for any student who requests an accommodation because he or she does not wish to use the facility corresponding to the student's biological sex. Questions remain as to whether school districts will be forced to adopt or change any of their existing policies on bathrooms aside from any such requests for accommodations. The bill as amended passed on second reading late last night, and the House approved SB 2078 with the amendments on third reading today. Now the bill heads back to the Senate for a determination of whether the House's language, with its added bathroom-related amendments, will be acceptable or will require referral to a conference committee. Lt. Gov. Dan Patrick has already called the new language "ambiguous" in a
statement
to reporters today.
Healthcare
The full Senate took Saturday off and reconvened at 7 pm last night, taking up a couple of bills of great interest to the education community. First, the Senate unanimously passed
HB 3976
by Rep. Trent Ashby (R-Lufkin) to reform the TRS-Care healthcare program for retired educators. The proposed changes are a tough pill to swallow for many retirees, but will prevent the program from completely running out of money during the upcoming biennium. For more on the TRS-Care bill, read ATPE Lobbyist Monty Exter's blog post
here
.
Vouchers and School Finance
At around 11 pm Sunday night, the Senate began debating
HB 21
by Rep. Dan Huberty (R-Kingwood), the school finance bill that is now hosting the Senate's controversial language calling for an education savings account voucher for students with special needs. Sen. Larry Taylor (R-Friendswood), the bill's Senate sponsor and author of the voucher language, emphasized his opinion that the voucher likely would only be used by 5,000 students, or one percent of the current public school student population. He fielded questions from several senators, notably Sens. Jose Rodriguez (D-El Paso) and Jose Menendez (D-San Antonio), who pointed out the problems with private school vouchers, such as parents being forced to give up the many rights and protections of state and federal law that students with special needs enjoy when they attend public schools. Opponents in the Senate also pointed out that voucher utilization rates have been considerably higher (and costlier) than one percent in other states that have passed vouchers, making the Senate's version of HB 21 likely to produce a much higher price tag than being claimed. The Senate tabled a Rodriguez amendment that would have stripped the objectionable voucher language from the bill, and similarly rejected a Menendez amendment that called on private schools that receive voucher funds to comply with the laws that would otherwise protect special needs students attending public school. A handful of other floor amendments were added to the bill, mostly representing less significant bills that had died on the calendar this session. The Senate passed its substitute version of HB 21 on second reading at around 1 am this morning. After adjourning for a couple of minutes and reconvening, the Senate passed its version of HB 21 on third reading at around 1:30 this morning. The final floor votes on the bill were 21-10 with all Republican senators plus Sen. Eddie Lucio, Jr. (D-Brownsville) voting for HB 21; all other Democratic senators opposed the bill. The bill now heads back to the Texas House where it's likely to receive a chilly reception. This afternoon, the House advanced another school finance-related bill on second reading.
SB 2144
by Sen. Larry Taylor, sponsored in the House by Rep. Huberty, would create a commission to study school finance during the interim and make recommended fixes to the next legislature. Laying out the less significant study bill today, Rep. Huberty used the opportunity to complain about the Senate's changes to his HB 21, which had the effect of stripping out much of the extra funding proposed by the House for public schools.
Testing
Upon adjournment of the Senate in the overnight hours, the Senate Education Committee called a last-minute meeting to take a vote on a pending bill relating to student testing. Rep. Gary VanDeaver's (R-New Boston)
HB 515
as filed was an ATPE-supported bill designed to eliminate some state STAAR tests not required by federal law. Earlier this month, the full House amended the bill to add language from another bill (HB 1776 by Ashby) that would call on school districts to administer the test for U.S. citizenship in lieu of a state-adopted history test. The Senate committee approved a substitute version of HB 515 early this morning that strips out the citizenship test requirement and instead calls for the State Board of Education to study the alignment and coursework of required social studies curricula for grades 8-12. The Senate's committee substitute bill also allows school districts to use SAT, ACT, and TSI tests as alternative assessments for graduation purposes. The full Senate must still pass HB 515 by Wednesday. Today, the House gave preliminary approval to Sen. Kel Seliger's (R-Amarillo)
SB 463
aimed at extending the law allowing individual graduation committees for certain students unable to pass STAAR tests required for graduation. The House agreed to a floor amendment by Rep. Huberty that will extend the ATPE-supported law until 2021. The bill must pass on third reading, and then as with many of these other bills, the Senate will have a chance either to accept the House's version of the bill in its current form or send the bill to a conference committee during this last week of the legislative session.
Now what?
There is a lingering question on many stakeholders' minds now: "Will there be a special session?"
Last week
, Lt. Gov. Dan Patrick made public demands for a special session if the House failed to pass a property tax reform bill and a bill on transgender bathroom policies. Over the weekend, Gov. Abbott took unusual steps to declare an emergency on changing the state's voter ID laws, signaling that issue as another "must pass" item for the regular session. Now that the House has added language relating to all three of these issues onto other bills, it remains to be seen whether those measures will be deemed acceptable by the Senate or if the governor will be inclined to call a special session. Stay tuned to Teach the Vote and
follow us on Twitter
for the latest updates.
06/02/2023
The HB 100 voucher scheme dies at the end of regular session, plus a special session and the TEA takeover of Houston ISD begin.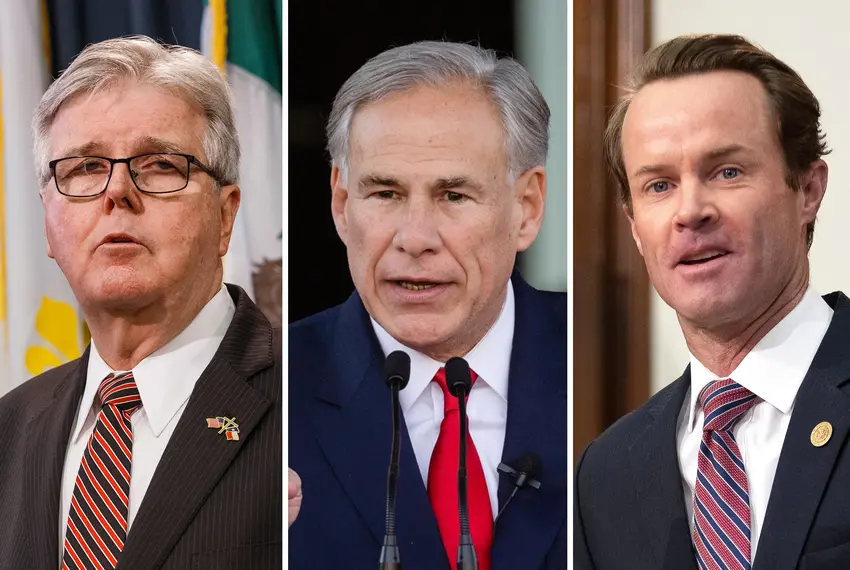 06/01/2023
Always happy to castigate the Texas House, Patrick breaks form to criticize the governor as misinformed and unsympathetic toward homeowners.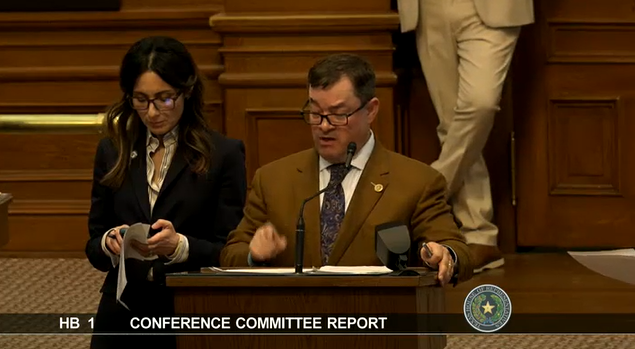 School Finance, Retirement | TRS | Social Security, Texas Legislature, Privatization | Vouchers, Educator Compensation | Benefits
05/30/2023
HB 100 was a casualty of a breakdown in communications between the House and Senate as the regular session drew to a close.