Abbott announces special session to include many public education items

Teach the Vote
Texas Legislature Educator Compensation | Benefits
Date Posted: 6/06/2017
Governor Greg Abbott released his plans for a special session today following a week of growing anticipation. For educators and public education advocates, the fight isn't over. Beginning July 18, the Texas Legislature will to return to Austin to address a long list of issues identified by Governor Abbott. Only one, continuing the Texas Medical Board, requires "emergency" attention; once that has been addressed, Governor Abbott expects the legislature to immediately address 19 additional items.
Two of those additional items are particularly familiar to public education advocates and educators who just spent the last five months defeating them. By adding them to the special session call today, the governor revived vouchers for special education students and a prohibition on payroll deduction for educators. Both issues were ones addressed and rejected by the legislature during its regular session. ATPE immediately responded to the news with a press release calling payroll deduction a "shameful attack on public school employees."
The governor also added school finance to the call, but he only called on lawmakers to create a commission to study school finance. He did not call on lawmakers to pass the pieces of legislation debated during the regular session that actually sought to fix the school finance system. For instance, HB 21 by Chairman Dan Huberty (R-Humble) and SB 2051 by Chairman Larry Taylor (R-Friendswood) took separate approaches to fixing the school system, but each addressed current school funding issues and received strong support. The school finance fix was ultimately derailed when Lt. Governor Dan Patrick added a voucher and refused to compromise on any bill to fund schools if a voucher wasn't included.
Two items that got little attention during the regular session but topped the governor's list of special session items today were a $1000 pay raise for teachers and flexibility for administrators in hiring, firing, and retaining teachers. The governor gave little detail on how to address either item, but did say that he expects the pay raise to be carried out through existing money and within existing budgets, meaning he doesn't want the legislature to dedicate any new funding to the effort.
The 19 additional items, as described by Governor Abbott's office are as follows:
Teacher pay increase of $1,000
Administrative flexibility in teacher hiring and retention practices
School finance reform commission
School choice for special needs students
Property tax reform
Caps on state and local spending
Preventing cities from regulating what property owners do with trees on private land
Preventing local governments from changing rules midway through construction projects
Speeding up local government permitting process
Municipal annexation reform
Texting while driving preemption
Privacy
Prohibition of taxpayer dollars to collect union dues
Prohibition of taxpayer funding for abortion providers
Pro-life insurance reform
Strengthening abortion reporting requirements when health complications arise
Strengthening patient protections relating to do-not-resuscitate orders
Cracking down on mail-in ballot fraud
Extending maternal mortality task force
06/02/2023
The HB 100 voucher scheme dies at the end of regular session, plus a special session and the TEA takeover of Houston ISD begin.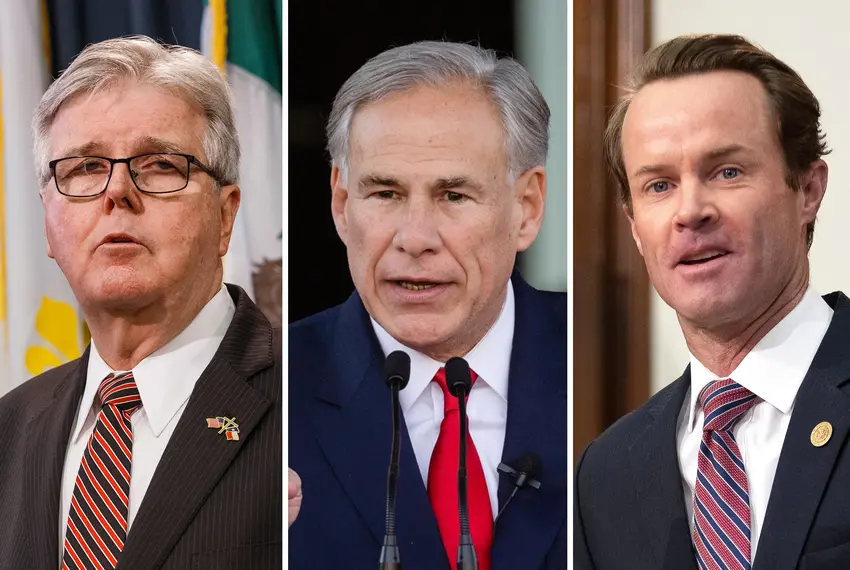 06/01/2023
Always happy to castigate the Texas House, Patrick breaks form to criticize the governor as misinformed and unsympathetic toward homeowners.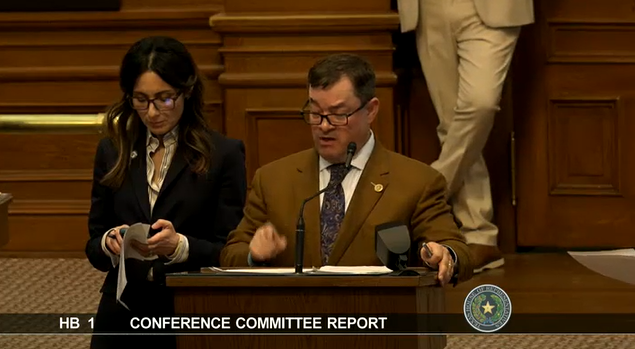 School Finance, Retirement | TRS | Social Security, Texas Legislature, Privatization | Vouchers, Educator Compensation | Benefits
05/30/2023
HB 100 was a casualty of a breakdown in communications between the House and Senate as the regular session drew to a close.