ATPE's Wrap-Up of the 85th Legislature's Regular Session

Teach the Vote
Texas Legislature
Date Posted: 7/07/2017 | Author: Jennifer Mitchell, CAE
While navigating challenges both new and familiar, and with the support of our members, ATPE has continued to fight for the rights of educators, teachers, and parents and to fend off threats to public education in the great state of Texas. This year, many ATPE members took swift and decisive action to protect their rights by calling, writing, and visiting members of the legislature (on more than one occasion) to inform their elected officials of the issues most important to Texas educators.
The 85th Legislature's regular session was long and arduous, but ATPE persisted in keeping public tax dollars out of private institutions—despite strong pushes from some lawmakers, the lieutenant governor, and outside lobbying groups to do the opposite. The Texas House leadership stood with ATPE, the vast of majority of parents, and the education community to fight vouchers and champion improvements to Texas's school finance system. Both chambers engaged in meaningful conversations about improving school accountability and reducing the emphasis on standardized testing.
Despite the numerous challenges presented during the 85th regular session of 2017, ATPE rose to the occasion and continued on our mission to provide every child equal opportunity to receive an exemplary education. Below are some highlights from this year's regular legislative session.
Progress on ATPE's Legislative Priorities for the 85th Legislature
1. School Funding: ATPE lobbied for dramatic improvements to the state's school finance system and urged lawmakers to provide the resources necessary to allow every child in Texas access to an exemplary public education.
o  The state budget: Senate Bill (SB) 1 by Sen. Jane Nelson (R-Flower Mound)
While the House and Senate each began this session with their own versions of the budget, the bills were worked out in a conference committee and resulted in the following new state budget for the next two years:
·       Lawmakers allocated fewer state dollars to school districts under this budget, requiring local schools instead to rely more heavily on property taxes just to stay open. The decrease in state funding coupled with the elimination of ASATR (Additional State Aid for Tax Reduction) is a one-two punch for districts that are already cash strapped, especially those in rural areas, and some have already stated they will either close or consolidate under this budget. This continues a trend of legislators shifting the burden of paying for public education from the state to the local level, which results in increased upward pressure on local property taxes to make up for the reduction in state funds. Legislators must realize that our outdated school finance formulas need to be reformed, and the state must shoulder its share of the burden if our schools are to meet the demands of rapid growth in population and enrollment.
·        The TRS healthcare program for retirees faced a billion-dollar shortfall going into the next biennium under its existing and inadequate funding mechanism. Lawmakers made modest increases to state and district funding formulas, in addition to providing a relatively small amount of one-time supplemental funding from the state, in exchange for passing a TRS reform bill that shifts the majority of the shortfall to retirees through increased premiums and decreased benefits. In all, SB1 includes $480 million above what previous formula funding called for, made up of $350 million from the state and $130 million from school districts.
o  School finance reform: House Bill (HB) 21 by Rep. Dan Huberty (R-Humble)
HB 21 was the first iteration of what Chairman Huberty planned to be a two- or three-session effort to completely overhaul the state's school funding mechanism. A testament to the volatility of this session, HB 21 began as a school finance bill supported by ATPE and most of the education community. The bill would have increased the basic allotment of funding per student, lowered the recapture rate, created a Hardship Provision Grant to soften the elimination of ASATR funding for several districts, added a formula weight for students with dyslexia, increased the Career and Technology Allotment weight (CTE), and repealed hold harmless provisions in the current law. Coupled with companion legislation in the House's state budget proposal, HB 21 could have provided as much as $1.9 billion in additional state funding for public education.
However, once the bill passed to the Senate, Sen. Larry Taylor (R-Friendswood), Chairman of the Senate Education Committee, substituted it with language of his own that reduced the additional funding to $530 million and added in a controversial provision for vouchers for students with disabilities. This draining of public tax dollars into private entities through a proposed Educational Savings Account (ESA) voucher caused ATPE and other members of the education community to retract their support of the bill. The Senate passed the voucher-laden version of the bill on a mostly party-line vote. Sen. Eddie Lucio, Jr. (D-Brownsville), joined with all Republicans to support the bill.
The House refused to concur with the Senate's changes to the bill, and Chairman Huberty called for a conference committee to work out the differences between each chamber's versions of HB 21. However, over on the Senate side, Lt. Gov. Patrick and Chairman Larry Taylor declared the bill dead that same afternoon, refusing to appoint members of the Senate to participate in a conference committee. The Senate ultimately appointed conferees with just hours to spare on the last day of deliberations, but no agreement could be worked out in the few remaining hours, and the school finance bill died.
2. TRS and Healthcare: ATPE helped prevent the passage of bills that would change the defined benefit structure of TRS, raised awareness of the dramatically rising costs of educators' healthcare programs, and helped secure additional funding for TRS-Care to prevent retired educators from losing their access to healthcare.
o  HB 3976 by Rep. Trent Ashby (R-Lufkin)
As stated above, ATPE entered the 2017 legislative session with a looming crisis for the state's healthcare program for retired educators. Facing a $1 billion shortfall, TRS-Care was slated to run out of funding during the next biennium without urgent action by the 85th Legislature. Combining $350 million in state funds along with $130 million in support from school districts, the passage of HB 3976 helped secure $480 million in new money budgeted for TRS-Care over the next biennium. In order to maintain coverage, this bill changes the current TRS-Care plan by splitting coverage into two groups based on retirees' ages. While the enactment of the bill means higher costs for participating retirees, it prevents the worst-case scenario: The collapse of TRS-Care in its entirety. Read a more comprehensive summary of the legislative changes here, and also read here about how the TRS Board of Trustees is now undertaking the rulemaking process to implement the changes called for by lawmakers in greater detail.
o  SB 1750 and SB 1751 by Sen. Paul Bettencourt (R-Houston)
Sen. Bettencourt's SB 1750 and SB 1751 revived the concept of converting the TRS defined benefit pension plan to a defined contribution program in the future, making it more like a 401(k) plan or a hybrid of the two. The first bill called only for an interim study of the idea, while the second bill would have authorized TRS and ERS (the agency overseeing a similar pension plan for state employees) to create such a program as an alternative for new employees. Bills like this are a common fixture in the sessions preceding when an agency is up for its sunset review. While both bills were referred to the Senate State Affairs Committee, neither received a hearing and both proposals died. Additionally, other legislation was passed that will move back the sunset date for TRS to the year 2025.
3. Saving Payroll Deduction: ATPE fought back against anti-educator bills that would do away with payroll deduction for voluntary professional association dues.
o   SB 13 by Sen. Joan Huffman (R-Houston) and HB 510 by Rep. Sarah Davis (R-Houston)
ATPE continued to defend educators' rights to use voluntary payroll deduction for their association dues and to fight anti-educator bills that do away with that option in an attempt to make it harder for educators to join professional groups like ours. Bills eliminating payroll deduction were identified as priorities of both the governor and lieutenant governor. ATPE members mounted strong opposition, testifying in committee and meeting with individual members of both the House and Senate to demand fair treatment. The Senate version (SB 13) of the so-called "union dues" bill passed the Senate on a party-line vote. In the House, both SB 13 and HB 510 were referred to the Committee on State Affairs but did not receive a hearing and subsequently died there.
4. Stopping Privatization: ATPE helped defeat bills aimed at creating private school voucher programs.
o  SB 3 by Sen. Larry Taylor (R-Friendswood)
Having made school choice one of his top three legislative priorities this session, Lt. Gov. Patrick used SB 3 as the main vehicle to push for vouchers in the form of both corporate tax credits for donations to private school scholarships and educational savings accounts for parents to use for their children's private and home school expenses. The bill was voted out of the full Senate after measures were added to make the bill more palatable to rural legislators who were concerned about the impact a major subsidy would have on their districts. SB 3 passed the Senate with the support of 13 Republicans and one Democrat, Sen. Eddie Lucio, Jr. (D-Brownsville); the rest of the Senate Democrats and three Republicans, including Sen. Kel Seliger (R-Amarillo) and Sen. Robert Nichols (R-Jacksonville), voted against the bill. While Sen. Joan Huffman (R-Houston) is recorded as voting against SB 3, she cast a key vote to enable the bill to come up for consideration on the Senate floor, which paved the way for its passage. Upon being received in the House, the bill was referred to the House Public Education Committee, where it later died.
o  The Senate's voucher amendment to HB 21
Earlier in the session, the House passed HB 21 by Chairman Dan Huberty as a school finance reform measure and the policy component intended to guide the additional money allocated to education in the House's version of the draft budget. As we discussed above, HB 21 was vigorously debated on the House floor and passed to the Senate, where Chairman Larry Taylor (R-Friendswood) substituted the House version of the bill with his own bill demanding an ESA voucher for students with special needs. The Senate passed its substitute version of HB 21 and sent it back to the House, which refused to concur with the controversial amendments. Lawmakers were unable to agree to a final bill, and HB 21 died along with all other attempts to pass a private school voucher this session.
o  Record votes on vouchers. The House took multiple noteworthy votes against private school vouchers this session:
·        During the initial debate of SB 1—the budget bill—on the House floor, members voted 104-43 in favor of an amendment by Rep. Abel Herrero (D-Corpus Christi), Rep. Gary VanDeaver (R-New Boston), Rep. Ken King (R-Canadian), and Rep. Kyle Kacal (R-Bryan) to prohibit the use of public funds from supporting school choice programs in any form.
·        The House voted against vouchers again upon receiving the Senate's version of the school finance bill, HB 21. The vote occurred in response to a "motion to instruct" presented by Rep. John Zerwas (R-Fulshear), a move intended to inform conference committee appointees of the desire of the body they represent while fleshing out the differences between differing bills. Chairman Zerwas filed the motion to urge House members of the conference committee to reject any voucher language in potential compromises on HB 21, and a supermajority of the House agreed. House members voted 101-45 to reject any compromises on HB 21 that would allow for ESAs, tax credit scholarships, or any other form of voucher.
·        Immediately following that vote, members squashed an alternative motion to instruct the conferees to "consider all methods of education choice and financing for special needs students." The motion, presented by Rep. Ron Simmons (R-Carrollton), failed with members voting 47-89 against it.
o  Related legislation: The "Tim Tebow" Bill, SB 640, by Sen. Van Taylor (R-Plano)
Once again, this session ATPE helped prevent the passage of a bill that would force public schools to allow homeschooled students to participate in extracurricular UIL activities. ATPE members have long opposed the uneven playing field that would be created with allowing the participation of homeschooled students in UIL, since those students are not be held to the same academic and disciplinary standards as public school students.
5. Promoting Educator Quality: ATPE advocated for maintaining high standards for the education profession and a compensation and benefits structure that promotes educator recruitment and retention.
o  SB 1839 by Sen. Bryan Hughes (R-Mineola)
Amended several times over, SB 1839 became the catch-all for bills that had otherwise failed in the legislative process. In its original form, the bill mandated that relevant PEIMS (Public Education Information Management Systems) data be shared with educator preparation programs, gave the commissioner more rulemaking authority with regard to out-of-state certificate holders, and required educator preparation programs to include instruction on digital learning. In the final version signed by the governor, the bill also includes measures to do the following:
·        Prohibit the State Board for Educator Certification (SBEC) from requiring educator preparation programs to deliver one or more face-to-face support visits for principal, librarian, counselor, and diagnostician candidates during their clinical experience;
·        Create an early childhood through third grade teaching certificate;
·        Require additional professional development for digital learning and teaching methods; and
·        Allow long-term substitute teaching to count in lieu of minimal field-based experience hours required of certain educator candidates before entering the classroom as the teacher-of-record on a probationary certificate. This language was originally a part of SB 1278, a bill ATPE testified against because it watered down educator preparation standards raised by SBEC during the past year. As that bill made its way through the committee process, much of the SB 1278 content was stripped away; however, this remaining portion was improved and ultimately added to SB 1839.
6. Reducing Standardized Testing: ATPE supported bills to reduce the role of standardized test scores in our accountability system for schools, in teacher evaluations, and in high-stakes decisions for students.
o  SB 463 by Sen. Kel Seliger (R-Amarillo)
During the 84th regular session of the Texas Legislature in 2015, ATPE worked with Sen. Seliger to enact legislation that would provide a safe harbor for eligible high school seniors otherwise prevented from graduating due to failure of two or fewer STAAR tests. Enacted by that 2015 law that was set to expire this year, Individual Graduation Committees (IGCs) take the student's entire academic history into account and use that to work a path to graduation. This session, we successfully worked with legislators once more to secure access to IGCs for high school students through 2019 with the passage of SB 463. 
o  HB 657 by Rep. Diego Bernal (D-San Antonio)
This ATPE-supported legislation allows ARD committees to promote special education students who have failed an exam but have otherwise met the goals of their individual education plans (IEPs). The passage of this bill provides students in special education programs with additional relief from regimented standardized testing. 
o  HB 515 by Rep. Gary VanDeaver (R-New Boston)
What started out as a bill to reduce the number of standardized tests that students are required to take lost much of its strength as amendments were added through the committee process. The bill's focus was altered, causing it to place an emphasis on replacing state exams for high school social studies with the US Citizenship test, which would have presented problems due to a lack of alignment between the proposed test and the curriculum standards in the Texas Essential Knowledge and Skills (TEKS). The author of the bill did not concur with Senate amendments when the bill was sent back to the House, and the bill died.
o  HB 1333 by Rep. Jason Isaac (R-Dripping Springs)
This bill called for a reduction in the number of standardized tests taken by public school students by requiring the state to seek a waiver of federal laws that require certain tests in grades three to 12, and bringing the number of standardized tests for high school students down to the federally required minimum. The bill also called for making test scores a smaller percentage of school accountability calculations and removing standardized test scores as a facet of teacher evaluation. This bill did not make it beyond a hearing in the House Public Education Committee.
7. Addressing Regulatory Exemptions: ATPE advocated for limiting, repealing, or adding safeguards to regulatory exemptions that have been granted to some public schools, including Districts of Innovation (DOI).
Several bills were put forth this session with the goal of closing loopholes associated with the advent of Districts of Innovation (DOI). ATPE successfully advocated for a new measure of transparency under DOI:
o  SB 1566 by Sen. Lois Kolkhorst (R-Brenham)
Included in SB 1566, an omnibus bill pertaining to district and charter governance, is the requirement that school districts designated a DOI must post and maintain their DOI plan prominently on the school district's website. A school district now has 15 days upon adoption to post its DOI plan or any revisions to its plan.
However, none of the following DOI bills made it to final passage:
o  HB 972 by Rep. Helen Giddings (D-Dallas)
This bill would have partly disallowed districts from exempting themselves from teacher certification laws by preventing a district from assigning most students in first through sixth grades to an uncertified teacher for two consecutive years (unless the district gets permission from parents). The bill passed the House but was not given a hearing in the Senate.
o  HB 1867 by Rep. Mary Gonzalez (D-Clint)
This bill would have removed educator certification from the exemptions available to districts under the DOI law. The bill failed to pass either chamber.
o  HB 1865 by Rep. Matt Krause (R-Fort Worth)
The bill would have removed school start date requirements from the list of eligible DOI exemptions, which would have eliminated a major enticement to districts considering DOI status. A desire to start the school year on an earlier date has been the most typical exemption sought by DOIs statewide. Despite the tourism industry vigorously lobbying in support of this legislation that would preserve a more predictable school calendar, the bill was left pending and eventually died after being heard in the House Public Education Committee.
o  HB 620 by Rep. Jeff Leach (R-Plano)
The bill would have allowed districts the option of moving the school start date to the second Monday in August, up from the fourth, and would have required instruction time measured in minutes, as opposed to days. HB 620 would have offered schools flexibility and eliminated an incentive to pursue DOI status. Like HB 1865, the bill was left pending and therefore died in the House Public Education Committee.
Other Legislative Victories:
·        ATPE supported changes to the A-F accountability system put in place for campuses last session (HB 22).
Rep. Dan Huberty (R-Kingwood), who chairs the House Public Education Committee, filed HB 22 to try to revamp the state's unpopular A-F accountability grading system for schools and districts. A version of the bill approved by the House had broad support from the education community, but stakeholders were less enthusiastic about changes made to the bill in the Senate. Ultimately, the bill was referred to a conference committee to iron out an agreement, and HB 22 became one of the last bills passed by the 85th Legislature before the clock ran out on the regular session. HB 22 as finally passed collapses the five domains down to three, allows districts to add locally designed aspects of their accountability plans subject to approval by the Commissioner of Education, and pushes back the rollout of the A-F rating system for campuses to August 2019. ATPE successfully advocated to require the rulemaking process include input from teachers. While ATPE is still not a proponent of the A-F system and had argued for eliminating the overall summative grade for schools, we support these changes in the final compromise version of HB 22, which should give districts more leeway and educators an additional opportunity for local input into the design of their schools' accountability systems.
·        ATPE bolstered efforts to prevent and punish cyberbullying - David's Law, SB 179, by Sen. Jose Menendez (D-San Antonio).
Expanding on ATPE's work in prior sessions to help curtail bullying of students, the act now known as David's Law establishes criminal penalties for those engaged in acts of cyberbullying and requires schools to create secure channels for students to report cyberbullying. 
·        ATPE supported prohibiting the Texas Education Agency (TEA) from basing a school's performance on the number of students in special education programs - SB 160 by Sen. Jose Rodriguez (D-El Paso).
ATPE supported legislators' efforts to end the de facto 8.5 percent cap on schools enrolling students in special education services. This legislation prevents TEA from monitoring school performance based on the percentage of students they enroll in special education services. 
·       ATPE worked closely with lawmakers to address educator misconduct - SB 7 by Sen. Paul Bettencourt (R-Houston).
One of the first bills signed into law by Gov. Abbott this year, SB 7 aims to address the phenomenon sometimes called "passing the trash," whereby educators accused of misconduct have been allowed to resign and find work in another school district thanks to lax reporting. Several amendments were added to the original version of this bill, including one to strip certain employees convicted of felony sexual offenses of their TRS pensions, amendments to add parental notification requirements, and an amendment that requires school job applicants to disclose any criminal charges or convictions in a pre-employment affidavit.
Texas Legislature
01/23/2023
Texas Lt. Gov. Dan Patrick (R) announced Senate committee assignments Monday for the 2023 legislative session.
01/20/2023
Texas state leaders were inaugurated this week and previewed their priorities for the legislative session now underway. Read more from the ATPE lobby team.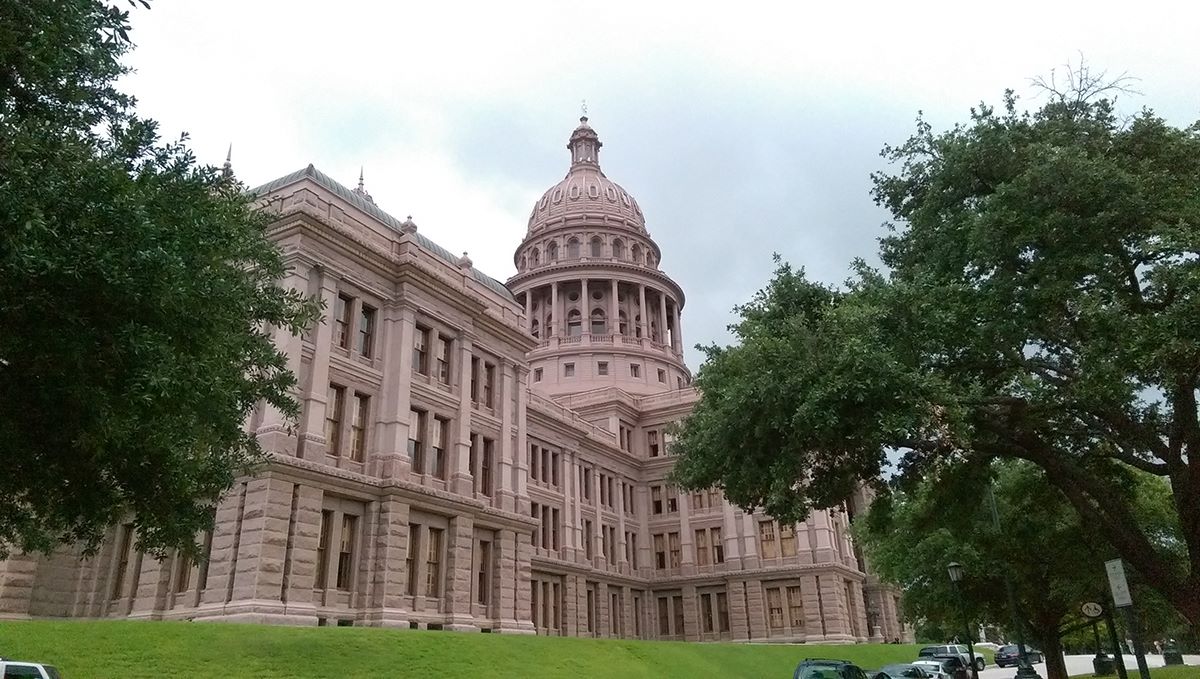 01/17/2023
Lt. Gov. Dan Patrick used the Jan. 17 event to announce he is "all in" with Gov. Greg Abbott on passing a voucher bill this session.