House Public Education hears pre-K, testing bills

Teach the Vote
Date Posted: 4/25/2017 | Author: Mark Wiggins
The House Public Education Committee met Tuesday morning to begin another busy week of hearing House bills. During a break in testimony, the committee approved the following bills:
House Public Education Committee meeting April 25, 2017. The meeting began with
HB 3526
 by state Rep. Donna Howard (D-Austin), which would rename the instructional materials allotment to the technology and instructional materials allotment. Rep. Howard explained the change would reflect the reality that the fund is being increasingly utilized to fund technology expenses. Rep. Howard introduced a committee substitute that would include a study on the effectiveness, value and best use of electronic instructional materials, considering a variety of demographics. ATPE supports this bill.
HB 2997
 by state Rep. Justin Holland (R-Rockwall) would refine the "A through F" accountability system, keeping the current five domains for high school and compressing junior high and middle schools to four.
HB 2790
 by state Rep. James White (R-Hillister) would allow an independent apprenticeship committee to conduct an apprentice program and receive funding. Texas Workforce Commission staff testified the bill would be unlikely to negatively impact the agency's budget.
HB 3384
 by state Rep. Mike Schofield (R-Katy) would require a district provide information requested by a trustee within ten days of the request. It would allow a member to bring suit against a district that does not comply and recover court costs and attorney's fees, to be paid from the budget of the district superintendent's office. Citing concerns with the bill, Chairman Dan Huberty (R-Houston) suggested bracketing it to a single district could make it more likely to advance from the committee.
HB 2782
 by state Rep. Terry Wilson (R-Marble Falls) would prohibit the Texas Education Agency (TEA) commissioner from implementing an accountability system designed to produce A-F results along a bell curve, and would require implementation in a manner that provides the mathematical possibility that all districts and campuses receive an "A" rating. Rep. Wilson explained the bill would put current TEA policy into statute. ATPE supports this bill.
SB 22
 by Senate Education Committee Chair Larry Taylor (R-Friendswood) would replace the current tech-prep program with a Pathways in Technology Early College High School (P-TECH) program. State Rep. Eddie Lucio III (D-Brownsville), the bill's House sponsor, explained the bill would help address the skilled labor gap. Rep. Lucio stated SB 22 would rectify shortcomings in the current program and address regional workforce needs as well as credit transfer policies. According the
fiscal note
, SB 22 would cost the state roughly $5 billion over the next biennium. ATPE supports this bill.
HB 1865
 by state Rep. Matt Krause (R-Fort Worth) would remove school calendar start and end date from the list of eligible DOI exemptions. It would also move the start date to the Tuesday after Labor Day and end date to between May 15 and the Friday before Memorial Day. Rep. Krause presented a committee substitute that would confine the bill to solely removing school start date from the list of DOI exemptions. ATPE lobbyist Monty Exter testified neutrally on the bill, pointing out that charter schools currently have a competitive advantage over public schools in their ability to set their own start dates without going through a waiver process such as DOI. Exter suggested both systems should be encouraged to adopt policies that best serve their students, including with regard to a uniform start date. Exter further suggested that if lawmakers determine summer flexibility is important, it should be extended to public schools as well.
HB 2806
 by state Rep. Trent Ashby (R-Lufkin) would require school districts and open-enrollment charter schools to report to PEIMS the number and percentage of students enrolled in voluntary after-school and summer programs, along with the number of campuses that offer such programs.
HB 4085
 by state Rep. Dustin Burrows (R-Lubbock) would create an additional exemption from SBOE approval for special programs if the district partners with a local economic development corporation and local businesses to develop and provide the course.
HB 3635
 by Rep. Krause would require the commissioner to establish objective eligibility and performance standards, including academic and financial performance, for districts pursuing DOI status. Would require DOI plans to include performance objectives and allow the commissioner to terminate a DOI after a single unacceptable performance rating. According to the
fiscal note
, HB 3635 would require TEA hire two additional full-time equivalent staff, costing the state an estimated $217,000 per year. ATPE lobbyist Mark Wiggins testified in support of the bill, pointing out that many of the provisions eligible for exemption under the DOI model were specifically put in place in order to safeguard students' classroom environment. If districts are allowed to waive class size ratios, teacher certification and parental notification requirements, they should be able to justify why those exemptions are needed and show if they meet performance objectives.
HB 1042
by state Rep. Cesar Blanco (D-El Paso) would expand a parent's right to request their student be allowed to take home instructional materials. It would require a school district or open-enrollment charter to provide instructional materials to a student in printed book format if the student does not have reliable access to technology at home. Districts or charters would also be required to document and report all denials of such requests, and the Texas Education Agency (TEA) would be required to submit an annual report to the legislature.
HB 633
 by state Rep. Mary González (D-El Paso) would remove student discipline under Subchapter A, Chapter 37, from the list of eligible exemptions available to districts of innovation (DOIs). According to TEA, more than 70 DOIs have exempted themselves from provisions under Chapter ATPE supports this bill.
HB 2247
 by state Rep. Dawnna Dukes (D-Austin) would grant a right to a relative caregiver to enroll a child who lives with them in school if the child's parent or legal guardian could not be reached for authorization. The bill also outlines an affidavit the relative would be required to sign.
HB 3759
 by state Rep. Kyle Biedermann (R-Fredericksburg) would exempt districts from a number of hand-picked sections of the Education Code and Health and Safety Code, alleging that they amount to unfunded mandates. Chairman Huberty voiced serious concerns about exempting districts from provisions of the Education Code meant to protect special education students. ATPE opposes this bill.
HB 2047
by state Rep. Gary VanDeaver (R-New Boston) lays out a mechanism through which adjoining school districts could agree to change a boundary.
HB 1180
 by state Rep. Craig Goldman (R-Fort Worth) would prohibit a school district from scheduling the last day of school after the Friday before Memorial Day and would extend the grandfather clause for year-round schools to those operating year-round during the 2016-2017 school year. ATPE supports this bill.
HB 1857
 by Educator Quality Subcommittee Chair Ken King (R-Canadian) would require instructional materials approved by the State Board of Education (SBOE) be suitable for the subject and grade level for which the instructional material was submitted. Current statute only specifies that instructional material be free from factual errors, so this bill would give SBOE an additional tool for vetting textbooks. SBOE member Tom Maynard (R-Florence) testified in support of the measure.
HB 2255
by Chairman King would open up high-quality prekindergarten to any child three years of age or older, and give districts the option of offering full-day or half-day pre-K. Districts that operate full-day pre-K would be allowed to include full days of attendance for calculating ADA. Would also increase requirements on private entities contracted to provide pre-K services. According to the
fiscal note
, HB 2255 would cost roughly $4.5 billion over the biennium. ATPE lobbyist Mark Wiggins testified in support of HB 2255, pointing out numerous studies that show prekindergarten offers substantial benefits to students. The 2005 HighScope Perry study found adults who attended pre-K as a child earned more money, were more likely to hold a job, committed fewer crimes and were more likely to have graduated high school. Pre-K saves taxpayer money on K-12 education, child welfare and the criminal justice system. In evaluating pre-K programs, ATPE looks at universality, half-day and full-day options, and high quality. Wiggins suggested King's bill moves forward in all three areas.
HB 880
 by Chairman King (R-Canadian) would allow a school district to assign a teacher certified for English as a Second Language (ESL) to a bilingual education program for one school year if the commissioner has determined that there is a shortage of teachers certified for bilingual education for the school year and one is not reasonably available to the district.
HB 1333
 by state Rep. Jason Isaac (R-Dripping Springs) would reduce the standardized tests required of public school students. The bill calls for delinking teacher evaluations from student test scores, but it would also require Texas to seek a waiver of federal laws that require several tests currently administered to students starting in grade three and moving through the high school grades. The
fiscal note
estimates HB 1333 would save the state $1.8 million through the biennium ending August 31, 2019. ATPE lobbyist Monty Exter testified neutrally on HB 1333, registering strong support for three major components of the bill. Testing should be taken down to the federal minimum, should be a smaller percentage of overall accountability system, and should be removed from teacher evaluations. Exter highlighted a data comparability concern stemming from the idea of allowing districts to utilize various different tests across the state, since doing so would lost the potentially beneficial data gathered through a single test.
HB 1651
 by state Rep. Rene Oliveira (D-Brownsville) would replace the current classroom supply reimbursement program, which is subject to appropriation and not guaranteed, with a blanket $200 reimbursement per teacher per school year. The
fiscal note
anticipates districts would see a combined cost of $69.4 million each year if all 347,000 teachers receive the full $200 reimbursement. ATPE supports this bill.
HB 3347
 by Chairman Huberty would allow districts to establish before-school or after-school programs, but prohibit them from using state or local funds appropriated to the district for educational purposes to support such a program. Districts would be allowed to contract with a licensed child-care facility.
Texas Legislature
01/23/2023
Texas Lt. Gov. Dan Patrick (R) announced Senate committee assignments Monday for the 2023 legislative session.
01/20/2023
Texas state leaders were inaugurated this week and previewed their priorities for the legislative session now underway. Read more from the ATPE lobby team.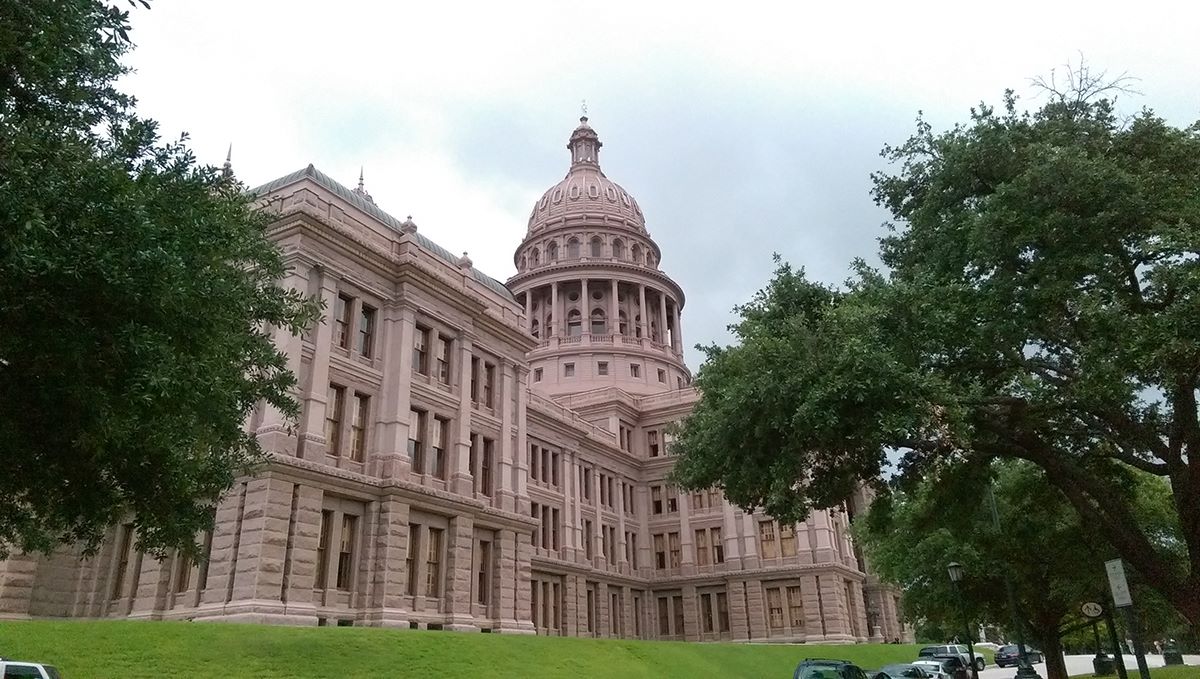 01/17/2023
Lt. Gov. Dan Patrick used the Jan. 17 event to announce he is "all in" with Gov. Greg Abbott on passing a voucher bill this session.