Legislative Update: Budget inches closer to completion, payroll deduction bill to be heard, and more

Teach the Vote
Date Posted: 5/20/2015 | Author: Jennifer Mitchell, CAE
We're a dozen days away from sine die. Read today's latest updates on several bills of interest to the public education community.
State budget
Legislative leaders appear ready to vote on a budget compromise, which has been held up for a while because of conflicting views on how to cut taxes. Today, May 20, the conference committee for
HB 1
, the state appropriations bill, is meeting and is expected to begin taking votes on an agreement for the budget. Earlier today, the Senate Finance Committee also voted to approve a bill, 
HB 32
by Rep. Dennis Bonnen (R), that permanently reduces the state's franchise tax by 25 percent. The vote reflects the reported budget compromise in which the House would get its preferred franchise tax cut while the Senate would get some of the property tax relief it has sought. The impact on typical taxpayers is likely to be minimal, while there are serious concerns about the potential loss of revenue for public education and other state services as a result of the cuts. As we've reported before, though, Gov. Greg Abbott (R) announced early in the legislative session that he would veto any budget that did not include a business tax cut. It appears that the House and Senate
may
have finally landed on a deal that will help them avoid the governor's veto pen or a special session.
Payroll deduction
SB 1968
by Sen. Joan Huffman (R), a highly controversial bill to eliminate educators' ability to use payroll deduction for payment of their association dues, is going to be heard by the
House State Affairs Committee
tomorrow, May 21. ATPE will be testifying against the bill. An initial attempt to suspend the rules in order for the committee to conduct a full public hearing on the bill failed,
as we reported yesterday
. Today the House agreed to let the bill be heard with public testimony in a committee hearing that will take place at 8 a.m. tomorrow morning. The committee only has until Saturday to vote out and report SB 1968 favorably in order for it to stay alive. The bill is being pushed by Lt. Governor Dan Patrick (R), conservative activists, and some business groups; ATPE and all of the state's major teacher organizations have opposed the measure. A number of firefighters, police, and EMS workers have also opposed the bill, even though it specifically excludes them from the prohibition on payroll deduction – a differentiation that also renders the bill unconstitutional, in all likelihood. View the full witness list from the Senate committee hearing
here
 to find out who openly supports or opposes the bill. The co-authors of SB 1968 are Sens. Paul Bettencourt (R), Donna Campbell (R), Bob Hall (R), and Van Taylor (R). Read more about our opposition to the bill
here
.
Suicide prevention
ATPE-supported bills pertaining to suicide prevention training for educators are still on the move. Today the Senate Education Committee heard 
HB 2186
 by Rep. Byron Cook (R), which passed the House convincingly on May 7 by a vote of 139 to 3. The Senate has already passed a similar measure, 
SB 1169
by Sen. Donna Campbell (R), by a vote of 29 to 1. In addition to expanding the training available to educators, both bills would honor the memory of Jonathan Childers, who was the son of ATPE member and Fairfield ISD coach Kevin Childers. The family's story is featured in our
latest issue of ATPE News
.
Educator preparation
Earlier today, May 20, the Senate Committee on Higher Education heard and voted out two bills pertaining to educator preparation and certification. One bill, which ATPE supports, is
HB 1300
 by Rep. Giovanni Capriglione (R). The bill amends a law that permits educator preparation programs to exempt up to 10 percent of each cohort of candidates from the state's minimum GPA requirement. The bill requires those exempted from the GPA rule to pass a content exam prior to admission. HB 1300 was unanimously approved by the committee today. The committee also heard 
HB 2205
by Rep. Myra Crownover (R). ATPE supported HB 2205 in the House but testified against a substitute version of the bill in this morning's hearing. ATPE Lobbyist Kate Kuhlmann explained in her testimony that there are several good provisions in the bill (including language taken from Rep. Gary VanDeaver's
HB 2566
 that requires a new teacher satisfaction survey, training for all certification candidates in educating students with dyslexia, and a complaint procedure for candidates to pursue against ed prep programs); however, Kuhlmann told the committee that ATPE opposes the new version of Crownover's bill that would lower the standards for entrance into the profession. Current law requires candidates for educator certification to meet a minimum GPA requirement of 2.75, although the State Board for Educator Certification (SBEC) has not yet implemented that requirement. There have been legislative proposals this session to reduce the minimum GPA requirement back to 2.5, even though the law and SBEC rules already allow several exceptions to the GPA rule. ATPE supports keeping the minimum GPA requirement at 2.75 while maintaining those exceptions. The committee unanimously voted to approve the committee substitute for HB 2205 today.
House Public Education Committee actions
On Tuesday, May 19, the House Public Education Committee heard often contentious testimony on a pair of proposals to deregulate certain schools that are low-rated under the state's accountability system. ATPE Lobbyist Monty Exter testified against both bills by Sen. Larry Taylor (R): 
SB 14
expanding the state's existing parent trigger laws and
SB 1241
to create "innovation zone" schools. Exter warned against proposals often backed by corporate and charter school management interests that offer parents "false hope" and fail to recognize the larger community's interest in how schools are operated. He also noted that schools already have statutory authority to implement many of the charter-style reforms that proponents of the two bills favor, such as making elementary class sizes larger. Both bills were left pending for the time being. As we reported yesterday, the House Public Education Committee has one last hearing planned for tomorrow, May 21, and the chairman announced on the House floor today which bills will be heard. The list includes
SB 507
by Sen. Eddie Lucio (D), a somewhat controversial bill requiring school districts to place video surveillance equipment in self-contained classrooms for students in special education programs. Also on the agenda is 
SB 1222
by Sen. Paul Bettencourt (R), which gives the commissioner of education power to subpoena documents when investigating educators accused of misconduct. Bettencourt originally accepted and then removed an ATPE-requested amendment to ensure that accused educators would have access to the same information received by TEA investigators through the subpoena process. The other bills on tomorrow's committee agenda are 
SB 33
 by Sen. Judith Zaffirini (D) relating to the offense of hazing; 
SB 811
 by Sen. Jose Rodriguez (D) to provide non-English speaking parents with a translated copy of their students' individualized education programs; 
SB 1004
 by Sen. Paul Bettencourt (R) pertaining to courses offered at Houston-area school districts by certain public junior colleges; and 
SB 1494
 by Sen. Carlos Uresti (D) to help homeless students with college applications and facilitating course credit and records transfers.
Senate Education Committee actions
On Tuesday, May 19, the Senate Education Committee heard 11 House bills, including 
HB 1706
, a bill by Rep. Gary VanDeaver (R) to try to reduce school paperwork requirements, and 
HB 2349
 by Rep. Jimmie Don Aycock (R) relating to student testing and curriculum standards. Both of those bills were voted out unanimously by the committee today and recommended for placement on the Senate's local and uncontested calendar, making them more likely to pass. The committee also listened to hours of testimony yesterday, mostly from parents and medical professionals, on 
HB 767
 by Rep. Wayne Smith (R). The bill calls for cardiac assessments of students participating in UIL athletic activities. The Senate passed HB 767 in mid-April by a vote of 82 to 62. That bill remains pending. Today, in addition to the suicide prevention training bill, the committee heard testimony on a couple more testing-related bills that ATPE has supported this session.
HB 743
 by Rep. Dan Huberty (R) attempts to reduce the amount of time spent on state-mandated testing in grades three through eight and limit the breadth of curriculum standards (TEKS) that are included on those tests. The bill also calls for auditing of the state's contracts with test vendors. 
HB 1164
by Rep. Gary VanDeaver (R) would eliminate state-mandated STAAR writing tests and instead have school districts assess students' writing ability using locally-approved methods. The bills are pending. The Senate Education Committee has one more meeting scheduled tomorrow, May 21, to vote out remaining bills that are pending and hear three House bills that Chairman Larry Taylor has referred to as "meaty." The committee will hear two high-profile bills by Rep. Jimmie Don Aycock (R): 
HB 1842
 relates to interventions and sanctions for low-performing schools, while
HB 2804
 is the accountability overhaul that includes "A through F" accountability ratings for school campuses, which ATPE opposes. The committee will also consider 
HB 2811
 by Rep. Ken King (R) relating to TEKS and instructional materials.
Updates on other bills
There have been no new developments on the governor's emergency bill to increase funding for pre-Kindergarten programs. 
HB 4
by Rep. Dan Huberty (R) has been sitting on the House's "Items Eligible" calendar for more than a week now after getting approved by the House and Senate in different formats. The House will either accept the Senate's changes to the bill, refer HB 4 to a conference committee to iron out differences between the two versions, or allow the pre-K bill to die on the House calendar if time runs out. A virtual voucher bill, 
SB 894
 by Sen. Larry Taylor (R), has been taken off the Senate Intent Calendar this week. Having been previously juggled on and off the calendar, the bill has struggled to to gain adequate support for a floor hearing on account of its hefty fiscal note and heavy opposition to the bill by stakeholders, including ATPE. Taylor has another bill, 
SB 1897
 dealing with the expansion of charter and virtual schools, that remains pending in the House, but the House Public Education Committee has not set that bill for a hearing with time running out. Among other bills that also appear stalled – we hope – for the remainder of the session are
SB 4
, the private school voucher tax credit bill filed by Sen. Larry Taylor (R) and pushed by Lt. Gov. Dan Patrick (R), and a bill backed by Texans for Education Reform to do away with the state minimum salary schedule for teachers,
SB 893
by Sen. Kel Seliger (R). We appreciate all the ATPE members who've called their legislators to oppose these harmful bills.
SB 66
 by Sen. Chuy Hinojosa (D) regarding the use of epi-pens in schools to treat anaphylaxis will be headed to the governor's desk soon. After the House passed an amended version of the Senate's bill, the Senate voted on Tuesday, May 19, to accept the lower chamber's amendments to the bill. The vote was 24 to 7, with Sens. Brian Birdwell (R), Konni Burton (R), Brandon Creighton (R), Bob Hall (R), Kelly Hancock (R), Don Huffines (R), and Lois Kolkhorst (R) voting against the motion.
---
Tune in tomorrow for another update here on our blog, and check out @TeachtheVote on Twitter in the meantime for additional reporting from our ATPE lobbyists.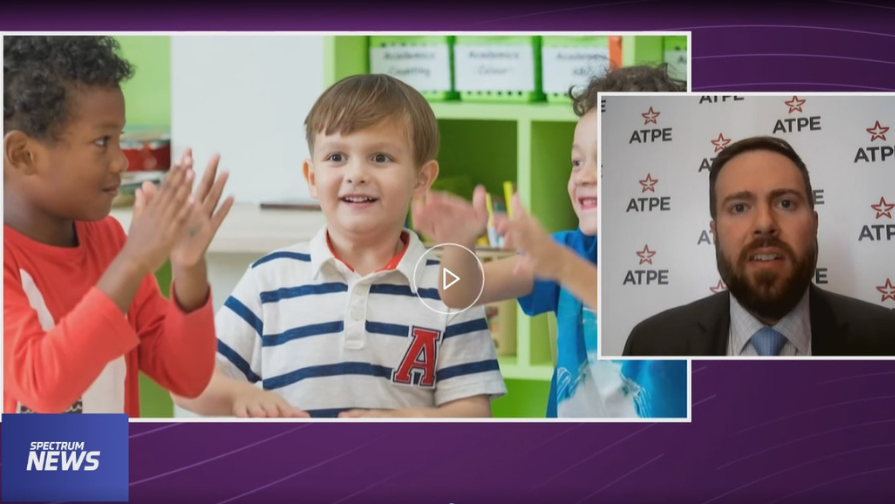 Texas Legislature, TEA | Commissioner | SBOE, Privatization | Vouchers, Deregulation | Charter Schools, Educator Compensation | Benefits
01/27/2023
Teacher pay and voucher bills are generating media attention, and Texas senators received their committee assignments this week.
Texas Legislature
01/23/2023
Texas Lt. Gov. Dan Patrick (R) announced Senate committee assignments Monday for the 2023 legislative session.
01/20/2023
Texas state leaders were inaugurated this week and previewed their priorities for the legislative session now underway. Read more from the ATPE lobby team.