Predictions on No Child Left Behind in the 114th Congress

Teach the Vote
Date Posted: 1/05/2015
U.S. Senator Lamar Alexander, a Republican from Tennessee who is set to take over as chair of the Senate committee that oversees education when Congress convenes the 114th Congress this month, has stated that his number one education priority for 2015 is to fix the Elementary and Secondary Education Act (ESEA), which is more commonly known as the No Child Left Behind (NCLB) Act. That law is now years overdue for a rewrite, and both Sen. Alexander and his education committee chair counterpart in the House of Representatives, Rep. John Kline (R-Minnesota), want to make it a priority. The ESEA is a piece of legislation originally signed into law by President Lyndon B. Johnson in 1965. The most recent reauthorization of the law was in 2001 when Congress passed NCLB, a signature piece of President George W. Bush's education policy. The ESEA/NCLB is now nine years overdue for another reauthorization and is becoming increasingly more outdated and burdensome. After several years of Congress's failure to rewrite the law despite growing pressure, President Obama and the U.S. Department of Education began waiving some of the provisions in the law for states that agree to implement certain policy initiatives in return. Texas is one of 45 states and territories currently operating under such a waiver. But as of this January, Republicans will control both chambers of the U.S. Congress for the first time since 2006, and the change to one-party control could mean a renewed focus on reauthorizing ESEA/NCLB. Sen. Alexander said earlier this month that his goal is to work with President Obama to get his signature on a bill by summer. The men who will serve as the leaders of both the House and the Senate, Speaker of the House John Boehner (R-Ohio) and incoming Senate Majority Leader Mitch McConnell (R-Kentucky), have also committed to addressing our country's education system in this next Congress. Another key figure could be Sen. Patty Murray (D-Washington), who is expected to serve as the top ranking Democrat on the Senate education committee. She has an incentive to reauthorize the law because the Department of Education recently stripped the State of Washington of its NCLB waiver when Washington's state legislature failed to pass a bill allowing the state to tie student performance on standardized tests to teacher performance, a policy initiative on which the Department of Education has stood firm when issuing, renewing, and, in this case, revoking waivers. Secretary of Education Arne Duncan and President Obama said they have always seen the waivers as a temporary solution and will work with Congress to pass necessary legislation. Senate education committee staff is reportedly already writing the new ESEA/NCLB reauthorization bill and is using Sen. Alexander's previous reauthorization bill—S.1101 from the 113th Congress—as a starting point. Based on that legislation and legislation filed by Rep. Kline, we have an idea of what a reauthorization of NCLB could look like in a Republican-controlled Congress. Still, if Republicans really do want to pass a bipartisan bill that President Obama would sign, other factors come in to play. Accountability In previously filed legislation, both Sen. Alexander and Rep. Kline would eliminate adequate yearly progress (AYP), the measurement under NCLB that requires states, schools, and districts to reach a certain level of proficiency—as determined by performance on state standardized tests—by specified dates. Instead, states would be able to develop their own accountability systems within a few broad parameters. President Obama and Secretary Duncan have also ditched AYP for states that operate under a waiver from the Department of Education. However, while states operating under a waiver plan to develop their own accountability systems, more parameters apply and they are still required to set achievement targets. Testing In their previous bills, Sen. Alexander and Rep. Kline would also maintain the annual standardized testing regime imposed by NCLB, which requires states to test reading and math in grades 3-8 and once in high school and requires states to test science three times at some point during grades 3-12. However, both men have expressed openness to working on this, and the Senate staff writing the bill has confirmed that the Senate bill will not include the testing schedule, instead allowing states to develop their own testing schedules. That proposal to do away with the federal annual testing requirements has significant support, but Secretary Duncan is not necessarily one of those supporters. He and others who agree with him feel annual testing is necessary in order to identify student growth and track historically under-served groups. While he has told educators he hears and shares their concerns about the over-emphasis on testing, Duncan has also stated that scrapping annual testing is nonnegotiable. Curriculum Standards Common Core will likely be a factor in new legislation. Rep. Kline and Sen. Alexander both included language in their previous pieces of legislation that would prevent the Department of Education from specifying a certain set of achievement standards. This language is aimed at Common Core, and similar language dealing with this issue is sure to resurface. Secretary Duncan has maintained support for college-and-career-ready standards as a big piece of the state waivers but has backed away from association with the Common Core State Standards Initiative. School Choice and Privatization The new bill is very likely to contain language related to school choice. Most likely, language will relate to charter schools, which enjoy bipartisan support on Capitol Hill and have the support of the Obama administration. Vouchers do not have near the same support, but they do have proponents on Capitol Hill. That list of supporters includes Sen. Alexander, who filed another piece of legislation in the 113th Congress that would have consolidated almost every federal education program into a block grant to states; that type of consolidation would be a departure from the current configuration under which each of the programs is specified for a particular purpose, such as helping low-income students or English language learners. Under a more consolidated plan, states could distribute the federal funds among low-income parents, who could chose to use their portion to help pay private school tuition, supplement the budget of their child's public or public charter school, cover home school instructional materials, or in other ways. Senate staff writing the new bill has reportedly confirmed that the bill will not include voucher language, but an amendment pertaining to a voucher program could surface during debate. President Obama has generally opposed vouchers because they divert public school funding to private schools with limited, if any, impact. Many members in Congress share that position. Educator Evaluations As stated above, under the NCLB waiver plan, President Obama and Secretary Duncan require that teacher and principal evaluations include student performance on state tests. This year, the Department of Education relaxed this requirement somewhat by giving states more time to implement these new evaluation systems as long as the state is moving toward the goal. Student growth must be a significant portion of the evaluation. Rep. Kline, in his prior legislative proposal, would also require states to develop an educator evaluation system, but he is less specific about the requirements of that system. His bill would have set five broad parameters, one of which does require the use of student achievement data as a significant portion of the evaluation system. Sen. Alexander's bill, on the other hand, made no requirement that states develop an evaluation system. Be sure to stay tuned to Teach the Vote throughout 2015 as we will continue to report on major education-related developments in Washington, DC, including any progress on reauthorization of ESEA/NCLB.
06/02/2023
The HB 100 voucher scheme dies at the end of regular session, plus a special session and the TEA takeover of Houston ISD begin.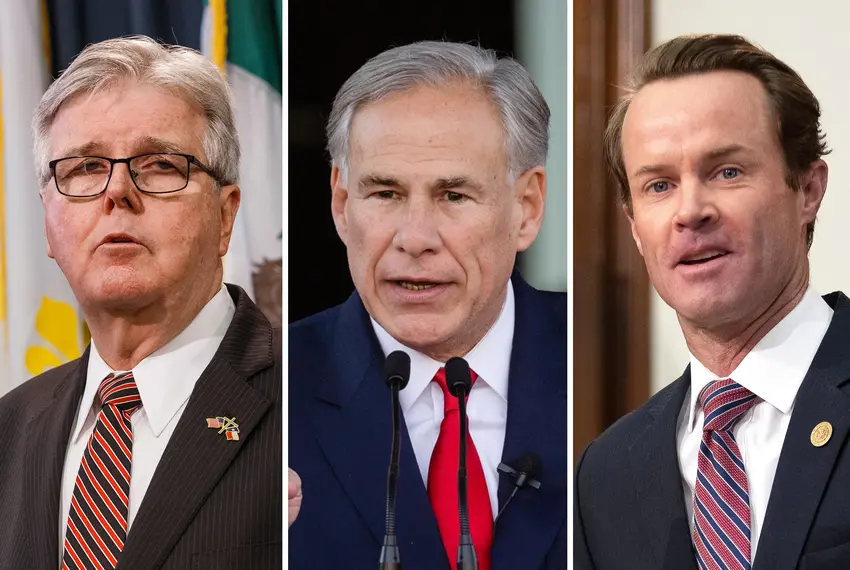 06/01/2023
Always happy to castigate the Texas House, Patrick breaks form to criticize the governor as misinformed and unsympathetic toward homeowners.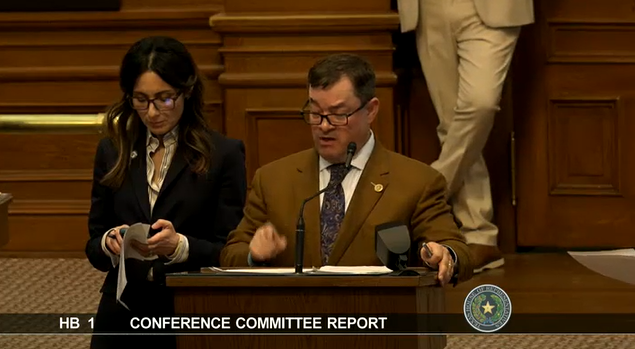 School Finance, Retirement | TRS | Social Security, Texas Legislature, Privatization | Vouchers, Educator Compensation | Benefits
05/30/2023
HB 100 was a casualty of a breakdown in communications between the House and Senate as the regular session drew to a close.